Experiencing Isolation Together:
How an online class changes lives
by Rose M. Fife, Communications Specialist
January 8. 2021
Mikki Hubert knew she would learn, but she did not expect the class to bring such calm to her life.
"
At the end of each session, I felt this all-enveloping, calming, inner peace inside of me. This has been missing for the last few months. It really helped in these times."
This fall, several members of Holy Trinity participated in an online adult education class moderated by Dr. Chris Johnson. The class, titled "Sustenance for the Weary Soul," offered seven sessions through Zoom on either Wednesday evenings or Thursday mornings.
One of the keynote speakers from last year's congregation meetings, Dr. Johnson is the founder of the Milkweed Group, a nonprofit that offers retreats for a wide range of audiences. His passion is helping others to determine their vocation and calling, purpose, and leadership development.
The purpose of the group was to provide a calm during these difficult times. "I hoped this would be an opportunity for people to come together in a safe space where they could hold and care for each other in really challenging times around things that matter." Dr. Johnson told me.
Each session, offered every other week from mid-September to mid-December, began with a reminder that everything discussed in the 90-minute class was private and not to be repeated outside of the class. George Winn felt this confidentiality was respected at all times. "I was concerned about it being private, but I don't think there's one person in that group that would disclose one thing that was talked about," he said.
For many, the class fulfilled the need of being with others in a difficult time. "This class went above and beyond my expectations!" Deb Miller said. [My husband Tim and I] looked forward to it every time. "We would have continued if the course were still going."
Maggie Arko signed up to take the class because she wanted to meet people at Holy Trinity. "Part of the reason I went to the class is because physical distancing is different from social distancing and social distancing you have to work at," says Maggie. She and her husband attended for a while several years ago, but then began to travel for most of the year. They officially joined last year and were looking forward to getting to know more of the congregation when the pandemic began.
"This class supported what was happening in my life; the relationships I took for granted became much more important. I began to appreciate the relationships I had with friends and family. I came to really appreciate how important it is to talk to people and have people listen to me every once in a while."
Online Format Changes Retreat
Like many, Dr. Johnson has had innumerable meetings through Zoom. However, he had not facilitated a workshop online. "I had to pay better attention to the group dynamics and the pacing through the screen," he told me (yep, on a Zoom call). "I felt more purposeful about how I was managing time. Each session was scheduled for 90 minutes and I felt like I needed to attend to how those minutes lived out on the screen."
Mikki Hubert appreciated the online format. A natural introvert, she usually has to make herself speak up. "The Zoom experience made me not so afraid to express what I felt!" New to taking classes online, Mikki didn't feel the format was challenging. "If you just look at the directions, it wasn't hard to follow the directions."
Age Doesn't Matter in a Pandemic
Meg Schoenbauer, a 19-year-old college student and the youngest member by several years, found it interesting to be in a class with people in different stages of life. "We're all going through the same struggles with the pandemic." A 2020 high school graduate, Schoenbauer missed her senior prom and class graduation due to the pandemic. "We're all missing certain life milestones we wished we weren't, we're all missing time with family."
Schoenbauer also learned "no matter how old you are, everyone is trying to figure things out. Just because they are older and wiser, doesn't mean they have a better handle on the pandemic."
George Winn agrees. "I'm older, I've lived through World War II, Vietnam, Polio vaccinations…. But age difference didn't matter much in this class. Everyone is experiencing isolation like never before, everyone is reacting differently."
Winn felt the participants learned to be more empathetic and to understand each other better. "We felt free to express ourselves and no one made judgmental comments.
All people really need is someone to listen to them."
Class Offers Life-Changing Ideas
Many felt the class changed them. For Meg Schoenbauer, that meant changing her environment. "One of the readings was about roots, and that made me re-evaluate my setting. It caused me to move and improve my own situation," she said. "I don't have to just get through this. I can put myself in a better situation that's better for me."
Tim Miller was impressed with how this changed the group dynamics outside of the class. "People dropped things off at the house for Christmas. These small groups have made us more tender toward each other. These little acts of kindness are much more likely to continue," he said.
Small Groups at Holy Trinity
One noticeable difference for Dr. Johnson was the proportion of men to women in the Holy Trinity group. "I noticed there was a little more gender diversity, a more evenly mixed group of men and women. But more men can always get involved."
Tim Miller agrees. "I think that engaging men more will help with relationships and help men with men. Men doing men's things, having coffee in the morning, Bible studies together…. Small group ministry has a place at Holy Trinity. It will be interesting to see how it evolves when we're all back together."
Fun Ideas during a Quarantine HOliday
by Rose M. Fife, Communications Specialist
We canceled the big family Christmas celebration this year and for a few moments I reveled in thoughts of a quiet Christmas. Good books I've wanted to read all year. Dinners in front of a roaring fire. Time to spend as a family…
And then I realized this is the same family who's been stuck with me since March. They're sick of my jokes, know I burn most dinners, and I'm still losing at Bananagrams. (Never have I missed our family and friends more.)
Aware I needed a new plan, I texted a few people and put a request on our HTLC page.
Here are Fun Ideas during a Quarantine Holiday.
Indoor Fun
Bailey Hinricher and her family like to play Minute-to-Win-It-Games.
Angela Schoenbauer recommends baking Christmas cookies, playing board games, and watching Christmas movies with her family (and new puppy).
Connecting Online with Socially-Distanced Family/ Friends
For family members who are new to Zoom, Amber Kahnke recommends playing board games over Zoom. (Each family will need their own board.)
Sande and Larry Schoenecker play games with family over Zoom using Jackbox.
Linnea Hautman recommends the article 11 Fun Games to Play on Zoom for lots of options and details.
Outdoor Fun
Amber and Nate Kahnke's family like to go downhill skiing and tubing. Read ahead before you visit Buck Hill in Burnsville.
Julie and Dan Popple's family recommend ice skating. These outdoor rinks will open in December
Sharon Steinhoff Smith and her family enjoy the Ney Nature Center. Just 15 minutes away from Henderson, they have "446 acres of forests, prairie, meadows, bluffs, creeks, and a variety of wildlife." And cross-country skiing as soon as that snowstorm arrives…
Liz and Bob Nelson recommend getting outside at least once a day to combat the winter doldrums. She suggests walking under the night sky, playing various Winter Snow Games, (here are directions for Fox and Goose), and always ending the night with hot chocolate.
Creativity Involved
To keep her family entertained, Leanne and Brian Gieseke improvised a scavenger hunt around town for her kids and their friends.
The Podratz Family likes to "ding-dong-ditch" with Christmas cookies. She writes "Take some of your homemade cookies and write a note: You've been ding-dong-ditched! Leave for a neighbor, friend from school or church. Put on the doorstep, ring the bell, and run like the wind!"
Melissa Horejsi suggests going through the church directory and writing a card or letter to someone you'd like to get to know better. "Kinda like ding-dong-ditch, but through the mail."
She also suggests trying a new type of food and doing a craft project as a family.
The Missions Team recommends knitting/crotcheting a scarf, hat, or mittens and leaving them in the Little Free Pantry. Buying self-care products and snacks also appreciated!
Jeff and Wendy Jacobson recommend supporting a local restaurant or coffee shop with take-out orders. Perhaps followed by a tour of lights!
Christmas Light Shows
Christmas is the perfect time for holiday light shows. Mary and Mike Busch recommend the Sever's Light Show and the Minnesota Zoo light show.
Janet Morris agrees with the Buschs and adds the light shows at Christmas in Color at Valley Fair, The Glow Holiday Festival at the state fairgrounds, and the Winter Lights 2020 at the Arboretum are worth the drive.
Whatever your plans, the staff at Holy Trinity Lutheran Church wish you a Merry Christmas and a Happy New Year!
A Door in the Wall of Grief:
Stories of Hope during COVID
by Rose M. Fife, Communications Specialist
Death is always difficult, but losing a loved one during a global pandemic adds layers of complications.
This fall several members of Holy Trinity passed away, leading families and the staff to pioneer new formats for memorial services.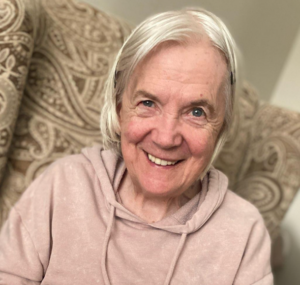 Dennis Jasperson felt he was losing his wife Dorothy to Parkinson's disease for many years. He was still surprised when she passed away in October 2020. "It was a shock when she died. I went [to see her] on the last day that Praha Village allowed visitors," he said over the phone. After quarantining for 10 days before, he was finally able to be with her for an hour and a half.
"That was the first time since March that we'd been in the same room." For seven months, Jasperson was only able to visit his wife through a window at Praha Village or send her daily notes through the mail. "I knew I was taking a chance visiting her, but…. it was a highly valued time."
The next day, Praha Village tested everyone for COVID. Dennis received a call a few hours later that Dorothy had tested positive for the disease and within a few days, her condition worsened. She was sent to a hospital in Minneapolis.
Not able to be with her in person, Dennis called as often as he was allowed. "It was very hard on her. She was crying all the time. After a few days we were finally able to go and see her, but by then she wasn't conscious." Dennis takes a moment to breathe. "She passed away the next morning," he says quietly and the heartbreaking reality of his story hits me. "We talk about our faith… This has been the greatest test I can ever have."
Humanity is trying to reconfigure life within the restrictions of COVID-19. But funerals have brought very specific challenges: How do we say 'Good-bye' to a loved one if we are not allowed to be with them? How do we celebrate their lives when attendance at funerals are limited? And how do we physically comfort friends and family when six feet apart is required?
"Preparing for the funeral was so different because we couldn't have our relatives present," Dennis tells me after a pause. "I was so appreciative of the [members of the] church. The drive-by was so meaningful and supportive."
Sometime during the planning for his wife's funeral, Dennis realized he wasn't just adjusting to the loss of his wife, he was ill. After the funeral, he was tested and diagnosed with COVID-19. "I couldn't grieve for a while. I was so sick that I couldn't think about anything but getting well."
Dennis suffered a high fever and chills for two and a half weeks, but he credits his friends with keeping him going. "The Amazing Grays group has been so good. When I got sick, they made sure I had plenty to eat. They've been so supportive with cards and food." He admits he still doesn't feel "back to normal," a month later.
In the end, Dennis was relieved the in-person funeral was small. "Preparing for the funeral was so different because we couldn't have our relatives present. I regret we couldn't have a church service for Dorothy. She has a large extended family and I know there are many people who couldn't come. But I wouldn't have had the strength for a large funeral. I was starting to feel very sick, and I don't think I could have done it."
Dennis continues to have hope for the future. "I'm having a tough time, but there's always a door in the wall of grief. That door is the future; we have to look forward to that!" he tells me. "Life really is short. I've learned over the past years how important relationships are. I'm going to continue building those relationships.
When Sharon Gillingham passed away this fall, it was left to her son, Todd Gillingham, and his siblings to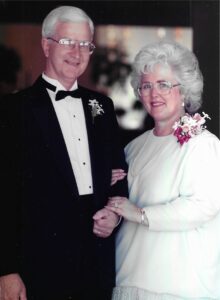 plan the memorial service. Thankfully, a previous connection with the Hilding family made it easier.
"It was a blessing to have people like Pastors Ben and Alicia [Hilding] to fall back on. We thought, 'A death has occurred, now what? Especially in this environment where we cannot mourn or grieve or celebrate life as we could before. Mom died in MN. We live in WI. How is this going to work?"'
Together Pastor Ben, Visitation Pastor Diane Goulson, and Todd and his siblings planned the virtual service. A family effort, one of Sharron's sons played the clarinet, the other read Scripture, one granddaughter sang, another granddaughter read a poem, a few grandsons played jazz guitar, and Todd played the piano. Later, Pastor Diane led the family in a private interment. "It was nice to have that connection with the pastors. Both Diane and Ben knew [our mother]."
Watching the memorial service online with his wife and sons, Gillingham was surprised at how much he appreciated the new format. "My siblings and I thought this might be hard, but we knew it was worth it. Mom was worth it," Gillingham says. The family now has a 33-minute video commemorating the life of their mother they can see anytime. "It's not about us. It's a keepsake we'll always have."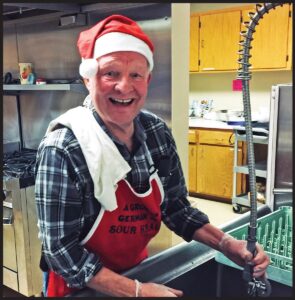 Joanne Reemts was astonished at the outpouring of love for her husband Jim at his passing in October.
"I always thought I was biased because he was my husband, but I was surprised. All the cards I got about his smile, his attitude, and his laugh," she tells me over the phone. "He was German, he had his faults," she deadpans, "but he was a great guy!"
Jim had heart issues and in May 2020, suffered a minor stroke. "That was my first experience with COVID," Joanne says. "I had to leave him at the door of the Emergency Room and pick him up later." Due to the pandemic, only patients were allowed into the emergency room.
Jim and Joanne had a difficult summer with Jim's health declining quickly, but they relied on their faith for strength. Five times this spring, she drove him to the Emergency Room in Minneapolis, left him at the door, and drove home alone. "I just came home and prayed. I always knew he was in good hands. I never knew how many COVID cases the hospital had or where they were in relation to him, but I never felt unsafe having him in the hospital. It was just the idea that I couldn't be with him when he was in the ER." By the afternoon, usually several hours later, a bed in the hospital was found and Joanne could drive back to be with him.
After several hospital visits, the doctors decided the heart medication was causing his kidneys to fail and the next step was dialysis. "That was really hard on him. It wasn't doing what it was supposed to for him," Joanne says. "He told me, 'This is not living,' so we took him off dialysis." Jim was able to spend his remaining time at home on hospice, surrounded by his wife and kids. He lived eight more days.
Joanne appreciated the small, quiet memorial service for Jim in October. "We both agreed we couldn't have handled [planning] a large funeral. We thought our COVID funeral was actually nice."
Like Dennis, Joanne also credits the Amazing Grays group for helping her during this process. "I miss them. I look forward to a time we can get together again."
Hidden Blessing of Online Worship
by Rose M. Fife, Communications Specialist
Barb Warner knows her favorite service (so far). "I loved the confirmation videos! We got to see each kid and got to know them more than if we'd been in church," she said. "And the kids can keep those videos forever."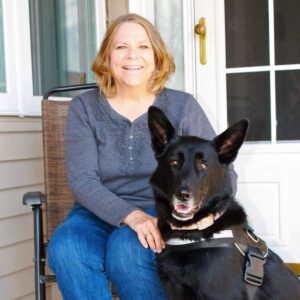 A few days before Sunday, March 15, Pastors Alicia and Ben made the announcement: We were switching to virtual worship for a few weeks until the coronavirus settled down and we could return to normal. That Sunday, Pastor Ben spoke to an oddly still sanctuary, the musicians played for a congregation on the other side of the screen, and Ministry Coordinator Karen Taylor streamed it on her phone, using a music stand to keep it steady. The global pandemic that was about to upend all of our lives had arrived in Minnesota.
At the time, most of us thought we would be back to "normal" soon. But we have a new normal now: an online worship that began with a small, humbled team has grown to many more. And that new normal has revealed many hidden blessings.
Watching the online services on our Facebook page on Sunday mornings, Barb says, "I love to see the comments as the service happens. It's really nice to know someone else is watching with you," she says. "I live alone; it's just my dog and me and this online service connects me."
A retired special education teacher, Barb wanted to get more involved, despite the pandemic. She now teaches the 1st-4th graders Children's Ministry on Zoom Wednesday nights. "Doing things like this really helps."
The true benefit of online services, according to Barb, is the inclusivity. "I like that you can still be included even if you're sick or traveling. When I was sick before, I just missed the service. Now, I'm still connected. I'm grateful for this church."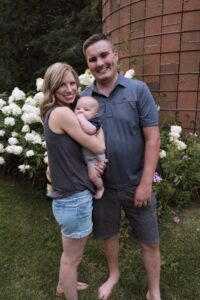 New parents Allie and Frank Wergin find watching online an easier option with their 6 month old baby, Jack.
"There are a lot of positives about watching the service online, but especially with having a little baby," Allie says. "He can be fussy at 9 a.m., so it would be a challenge to be there in person. Sometimes we are still in our jammies if the baby had a bad night. The flexibility is helpful."
The Wergins joined Holy Trinity in August. As many people join churches to be a part of a larger community of faith, I asked Allie if they were feeling connected. "We are a new family, so not having that face-to-face interaction makes it a challenge. But we're getting to know some of the members by watching the online worship," she said.
Barb and Bob Gullickson tune in on Sunday mornings. "We watch every week. I still think, 'It's Sunday, we have worship.' Now, of course, I can cuddle with my dog, but I like keeping this part the same," says Barb.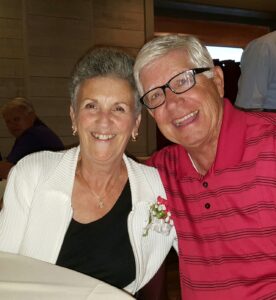 "Of course we miss everyone, but we like watching the commentary [on Facebook] and the creativity the staff has come up with to pique our interest," says Barb. "The music is fabulous! Having a blended style is great because something speaks to everyone that way. "
Bob appreciates the Pastors' sermons. "Without the services on the screen, we wouldn't be able to hear the sermons. Especially during these tough times, it's important," he said. "They are so relevant, the positive aspects of diversity in the church… you hear these messages and they make you think."
Barb also appreciates how new leaders of the church are coming forward to share their gifts. "I love that Pastor Diane is more a part of our church and we love to see everyone's faces! Especially the new, talented people who have been hiding."
Holy Trinity is grateful for all our members and friends. We pray you have a reflective and healthy Advent.