Sustenance for the Weary Soul
Courage & Resilience in Challenging Times
Adult Education series for members and friends of Holy Trinity
These are divisive, anxious, and bewildering times. Things seem to be coming apart: democracy, planet Earth, our nerves. The way forward feels cloudy, uncertain,
and exhausting. As fraught and wearisome as the path may be, it's crucial that we
allow time to renew our spirits, draw on the deep well of God's love, and restore our
capacities for connection and courage, wonder and resilience.
This 7-part online series will be offered at NO COST for members and friends of Holy Trinity. Sessions will be held two different times every other week for 90 minutes on Wednesday evenings (6:30 – 8 pm) and Thursday midday (11:30 am – 1 pm). Knowing the importance of human connection, especially in these times of physical distancing, we will gather online (via Zoom) in cohorts of around 12 people each.
Session 1: Learning to Pause, Pausing to Learn
Session 2: Getting Grounded: Seeds, Roots, and Rich Soil
Session 3: In this Together: Solitude and Community
Session 4: Living in the Midst of Paradox: Learning to Walk in the Dark
Session 5: Islands of Sanity
Session 6: Vulnerability and Courage
Session 7: Drawing on the Deep Well
The series will be led by experienced Circle of Trust® facilitator Dr. Chris Johnson, who will help us to:
name and hold our emotional responses to the significant challenges of our time.

practice crucial skills and capacities of mind, heart, and body that help us live into these challenges.

enhance our ability to understand complex and interdependent systems and to treasure the wisdom of diverse perspectives.

remember and practice awe, astonishment, and gratitude.

be held by a remarkable Holy Trinity community of mutual support, inspiration, and positive relationship.
Each session will include a nourishing mix of solitude and silence, conversation, and opportunity for reflective writing. They'll be grounded in your own experience and fueled with insights from poets, scholars, artists, naturalists, musicians, scientists, and various wisdom traditions. Strictly confidential practices of deep listening, discernment, and mutual support will be a key component.
You may also register by contacting Jamie in the church office at 952-758-3513. Once we have your registration, Chris will send you some short pre-readings and the information to connect to the sessions via Zoom.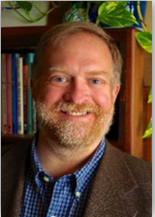 Dr. Chris Johnson is the product of the fields and prairies, lakes and forests of southern Minnesota, having grown up on a farm near Litchfield. He has nearly 30 years of experience in teaching, speaking, coaching, and facilitating retreats with a wide range of audiences in education, faith-based, and nonprofit organizations around issues of vocation, calling, and purpose; life transitions; leadership development; experiential learning; and spirituality in life and work. He is founder and principal of The Milkweed Group, LLC, whose work is to create and hold safe, courageous spaces that nourish inner wisdom, sharpen clarity of purpose, and nourish capacity to live and lead for a better world. Chris and his wife Kim are co-founders of Prairie Oaks Institute, a nonprofit educational retreat center near Belle Plaine, and have three young-adult children.
Due to COVID-19, adult ministry meeting dates, times and locations have changed. Please contact Jamie or call 952-758-3513 to inquire about the adult ministries.
Whether it's ongoing opportunities, short term opportunities, or one time events, Holy Trinity Lutheran Church has a number of options for serious engagement of life as a person of faith, and for opportunities to develop relationships with others connected to HTLC.
Faith Formation
We have small groups and support groups that meet weekly and/or monthly for Bible Study/Devotions and Fellowship. If you would like help connecting with a small group or have interest in starting a new small group, please contact Pastor Alicia (alicia@holytrinityonline.org or 952-758-3513).
Amazing Grays/Senior Coffee
Wednesday @ 9 – 10 am in the Youth Room
If you are 55+, please meet us for coffee, fellowship and a variety of speakers and topics. We also plan a monthly road trip outing, usually on the first Thursday of each month. The last Wednesday of each month will be a "game" day (i.e. bingo, board games, etc.).
Men's Bible Study
Thursday @ 6:30 – 7:30 am at Ettlin's Cafe
Join us for breakfast and an in-depth look at the Bible!
Prayer Shawl Group
2nd Saturday of the month @ 9 am in the Fireside Room
Knitters and crocheters of all levels are welcome! If you'd like to create Prayer Shawls at home, click here for prayers to use while creating your shawl.
P
FLAG Parent Support Group
Last Tuesday of the month @ 7 – 8:30 pm in the Fireside Room
The PFLAG Parent Support Group is a place where parents, grandparents and other family members can come together to support one another as they deal with the issues of having a LGBT (Lesbian, Gay, Bisexual, Transgender) family member. Our group is non-denominational and open to all.
Sarah's Bible Study
2nd Thursday of the month @ 9 – 10 am
Looking for lively discussions? Want to meet others and learn about important women of the Bible?
Signature Events
We want to do what we can and do it the best we can, so as a community, we have committed to three signature events a year that are open to and for the community.
Rib Fest (August)
Trunk or Treat (October)
Christmas Tea (December)
Contact Karen Taylor, Ministry Coordinator for more information on Signature Events.