Holy Trinity is committed to allocating 10% of its annual general revenue to Mission Outreach projects. The Mission Outreach Committee determines how the 10% congregational tithe is gifted to support local, state, national and international communities. Committee liaisons communicate with each recipient to express gratitude for their work, to encourage them to continue, to support them in prayer and to notify them of Holy Trinity's financial contribution.
Mission Outreach Committee
Mary Eagen

Linnea Hautman

Pastor Ben Hilding

Liz Nelson

Julie Popple

Sande Schoenecker

Sharon Steinhoff Smith (Chairperson)

Dr. George Winn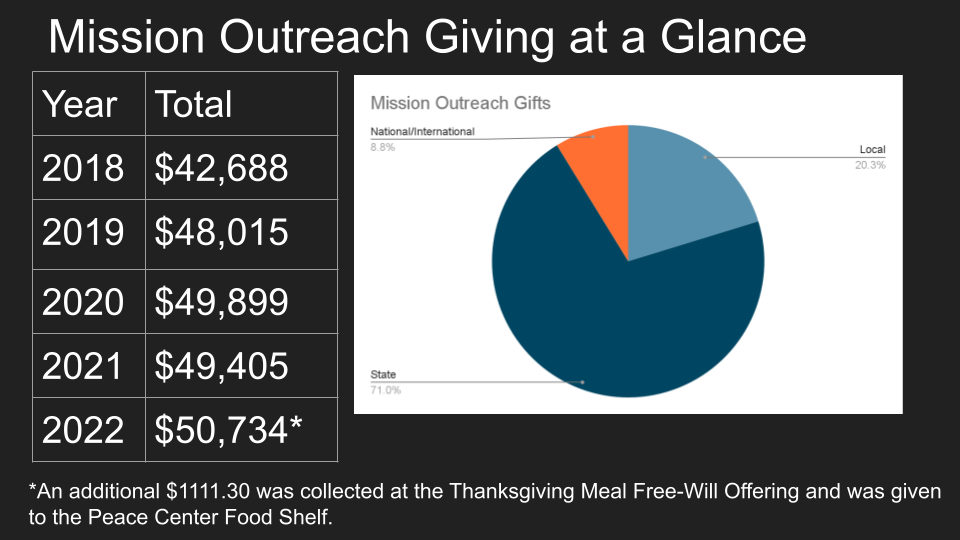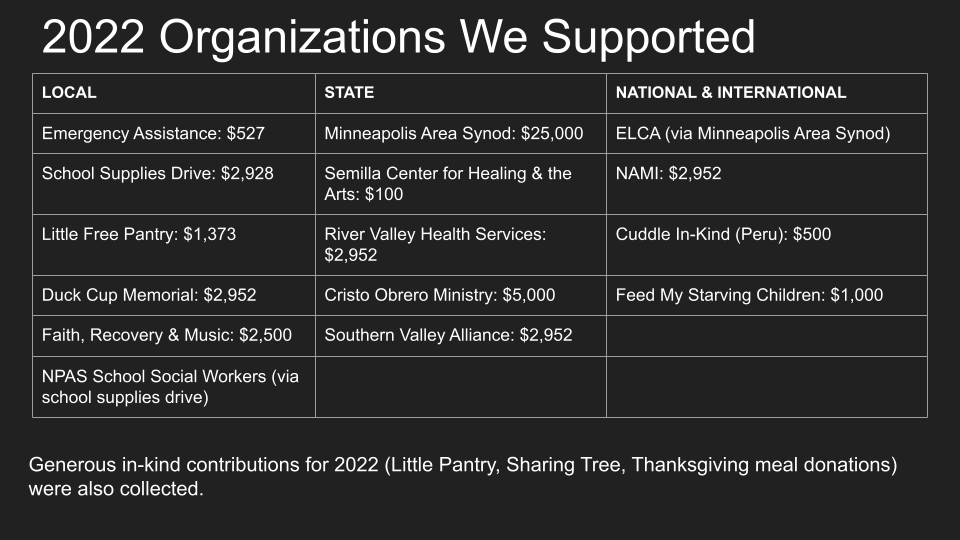 Little Free Pantries
A valuable resource for families in the community. The Little Free Pantries are located on the south side of the building, between Doors 1 & 2.
Please bring donations to the cart located near Door 2.
Breakfast items – small boxes of cereal (hot or cold) breakfast bars, pancake mix
Bread – (wheat preferred)
Boxed dinners/meals/easy – (family/individual sizes)
Coffee/creamer
Healthy snacks/crackers/granola bars/popcorn
Hot chocolate packets
Gravy packets
Mac & Cheese (Kraft preferred) – boxed and individual
Pasta/rice/spaghetti, sauce packets
Pizza crust mix & sauce packets
Potatoes – boxed/mashed
Ramen noodles
Soup – dried/boxed

Taco ingredients – shells, seasoning packets
Household Pantry suggestions:

●Diapers – size 4 and 5
● Cleaning products – dish soap/laundry soap
● Feminine hygiene products
● Hygiene products – bar soap, body wash, deodorant, hand sanitizer,
shampoo/conditioner
● Tooth paste/brushes
● Paper products – Kleenex/tissues, towels, t-paper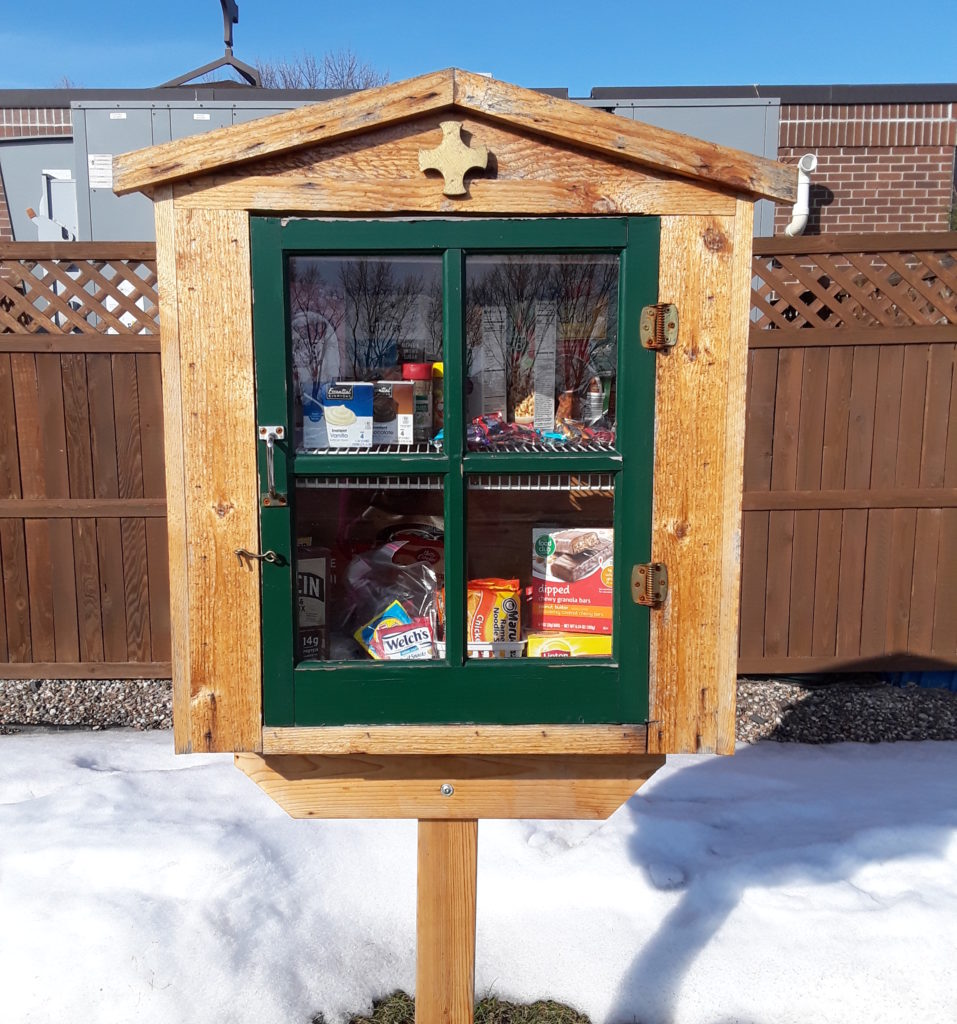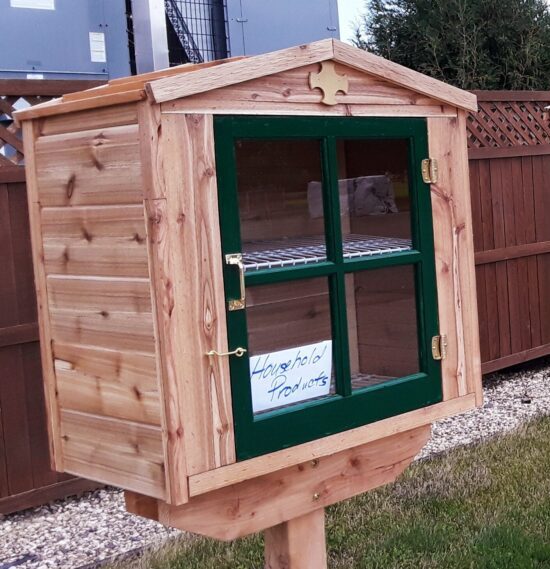 Peace Center
The Peace Center is New Prague's food distribution center serving nearly 5000 individuals per year with their everyday needs. They rely on area businesses and individuals for food and monetary donations.
Cristo Obrero
Holy Trinity is partnered with Cristo Obrero (Christ the Worker) to start a new church for Latino families in the Shakopee and Chaska area.
Faith, Recovery & Music
Faith, Recovery & Music was founded by HTLC Member, Tim Price. Tim was called to start this non-profit Christian ministry directed towards alcoholics and addicts by means of experience, strength, faith, hope and music.
River Valley Health Services
Dedicated to promoting community wellness through serving vulnerable individuals and ensuring access to health resources in our community. River Valley Health Services focuses on health and the heart of service built on relationships, respect and dignity with our uninsured clients. Our vision for compassionate, timely and accessible health services for all in Scott and Carver counties continues.
Beacon Interfaith Housing Network
Holy Trinity Lutheran, along with other churches in the New Prague area, are part of a larger group of churches in the southwest suburbs that provide housing for families with children that are currently homeless. Families rotate between the churches and communities on a weekly basis. Hope House coordinates a temporary shelter for up to 16 occupants for two-week periods.
Minneapolis Area Synod
Holy Trinity is one of 137 congregations that belong to the Minneapolis Area Synod (MAS) within the ELCA. It supports member churches along with their leadership. MAS helps member churches to discern and follow God's will to nurture, serve, and lift up the people in congregations, communities, region and around the world.
Evangelical Lutheran Church in America
The Evangelical Lutheran Church in America (ELCA) is one of the largest Christian denominations in the United States, with nearly 3.3 million members in more than 8,900 worshiping communities across the 50 states and in the Caribbean region.
Cuddle + Kind Dolls
Holy Trinity gives each child a Cuddle + Kind Doll at their baptism. Not only is the doll a great reminder of their special day, it also helps spread the mission of Holy Trinity. The purchase of each doll gives ten meals to children in need.
NAMI
The National Alliance on Mental Illness (NAMI), is the nation's largest grassroots mental health organization dedicated to building better lives for the millions of Americans affected by mental illness.
Feed My Starving Children
Feed My Starving Children (FMSC) believes hope starts with food. As a Christian nonprofit, FMSC is dedicated to seeing every child whole in body and spirit. FMSC works with food distribution partners that stay with communities for the long haul, empowering them to move from relief to development.
Southern Valley Alliance
Southern Valley Alliance (SVA) helps all those impacted by domestic violence in Carver and Scott counties, including victims, families, organizations and communities. People can experience domestic violence vastly differently depending on their cultural, religious, racial, and gender background. SVA understands the importance of addressing these influences and work with survivors to provide culturally competent services and resources.
Semilla Center for the Healing Arts
Over the past 14 years, Semilla has taught over 2,300 people to create mosaics, murals, writing, photography, and drama, and installed 23 murals and over 50 artistic place makers in the Phillips community and greater Minneapolis.