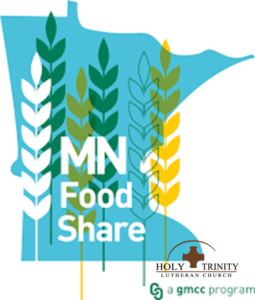 March Missions Drive
March is Minnesota FoodShare Month so our Missions Drive will be seeking donations for the Peace Center.
Due to the drastic increase of job losses in our community, please donate non-perishable food items to the New Prague Peace Center located at 313 Columbus Ave North.
Hours : Mondays, Wednesdays, Fridays 9 am – Noon and Thursdays 4:30 – 6:30 pm.
Little Free Food Pantry is available year-round!
To leave donations, put them directly in the Pantry, or in the box inside Door 2.
Items needed throughout the year:
Baking items (sugar/flour/mixes), crackers, cereal/oatmeal, granola bars/snacks, hot chocolate/coffee/lemonade, instant mashed potatoes/gravy packages, jello/pudding, Mac'n Cheese, pancake mix, pasta/Ramen noodles, rice, taco mix/shells, paper products–toilet paper/Kleenex
Items needed during the warm months:
Canned beans, canned meats, canned vegetables/fruit, jam/jelly, juice boxes, pasta/taco sauce, peanut butter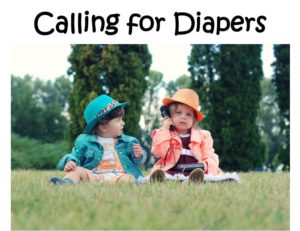 Thank you to everyone who brought diapers for our February Missions Drive. We collected over 6,000 diapers!
All diapers will be dispersed through the Peace Center Food Bank and the ECFE programs.
FISH Partner Network
FISH stands for Families and Individuals Sharing Hope. FISH is a collaboration of the faith community, non-profit organizations, service groups, government entities and the business community. Their mission is to partner together to meet human needs in Scott County, MN so individuals will be able to lead healthy, transformed lives. HTLC is honored to be involved with this ministry.
Beacon Interfaith Housing Network
Holy Trinity Lutheran, along with other churches in the New Prague area, are a part of a larger group of churches in the southwest suburbs that provide housing for families with children that are currently homeless. Families rotate between the churches and communities on a weekly basis. Hope House coordinates a temporary shelter for up to 16 occupants for two-week periods.
Christo Obrero
Holy Trinity has partnered with Christo Obrero (Christ the Worker) to start a new church for Latino families in the Shakopee and Chaska area.
Bega Kwa Bega
Bega Kwa Bega is a joint ministry between communities of faith in the ELCA and Evangelical Lutheran Church in Tanzania, whose purpose is to proclaim the Gospel of Jesus Christ, to extend Christian hospitality, and to strengthen relationships with one another through the shared practices of prayer, presence, and projects.
Minneapolis Area Synod
The Minneapolis Area Synod works together so that all experience gracious invitation into life-giving Christian community and live in just and healthy neighborhoods.
Sharing Tree
Each year Holy Trinity sponsors families in coordination with the Le Sueur County Adopt A Family program. More than 300 families are gifted essentials for a Minnesota winter. The tree is set up in the Narthex around November/December time with tags for individual gifts of clothing, shoes and outerwear for the children in the program. All items must be new and unwrapped.