Holy Trinity is committed to allocating 10% of its annual general revenue to Mission Outreach projects. The Mission Outreach Committee determines how the 10% congregational tithe is gifted to support local, state, national and international communities. Committee liaisons communicate with each recipient to express gratitude for their work, to encourage them to continue, to support them in prayer and to notify them of Holy Trinity's financial contribution.
Mission Outreach Committee
Julie Popple

Sande Schoenecker

Dr. Tim Miller (Treasurer)

Dennis Tietz

Liz Nelson

Linnea Hautman

Amber Kahnke

Dr. George Winn

Mary Eagen
| | | | | |
| --- | --- | --- | --- | --- |
| | 2018 | 2019 | 2020 | 2021(thru Q3) |
| Local | $15,725 | $14,980 | $14,980 | $22,594 |
| State | $20,000 | $19,210 | $19,210 | $23,500 |
| National & International | $6,986 | $26,526 | $20,923 | $5,062 |
| Total | $42,711 | $60,716 | $55,113 | $51,156 |
2021 Mission Outreach Recipients
Learn more about our Mission Outreach Recipients at the bottom of this page.
| | | |
| --- | --- | --- |
| Local | State | National & International |
| Peace Center Food Shelf | ELCA – Minneapolis Area Synod | ELCA |
| HTLC – Emergency Fund | River Valley Health Services | Bega Kwa Bega |
| HTLC – School Supplies Drive | River Valley Alliance | Gideons |
| Le Sueur Co. Santa Anonymous | | Lutheran Disaster Response |
| Cristo Obrero Ministry | | NAMI – National Alliance on Mental Illness |
| HTLC – Little Food Pantry | | Cuddle + Kind Dolls (Peru) |
| Duck Cup Memorial | | Afghan Refugees via Lutheran Social Services |
| Faith Recovery & Music | | |
Little Free Pantries
A valuable resource for families in the community. The Little Free Pantries are located on the south side of the building, between Doors 1 & 2.
Please put donations directly in the Pantry.
Items needed in Food Pantry
Breakfast items – cereal (hot & cold), fruit bars, pancake mix, syrup

Boxed dinners/meal/easy – (family/individual sizes)

Rice, spaghetti sauce, pasta

NO Mac'n Cheese needed

Canned fruit and fruit juices

Healthy snacks (crackers, granola bars)

Soup – boxed/canned

Taco ingredients – shells/soft, seasoning

Microwave popcorn

Coffee, tea bags, hot chocolate

Honey, sugar, spices, oil
Items needed in Household Pantry
Diapers – 6/pack – size 4&5

Cleaning products – dish soap/laundry soap

Feminine hygiene products

Hygiene products – bar soap, body wash, deodorant, hand sanitizer, shampoo/conditioner

Masks

Paper products – kleenex, tissue, towels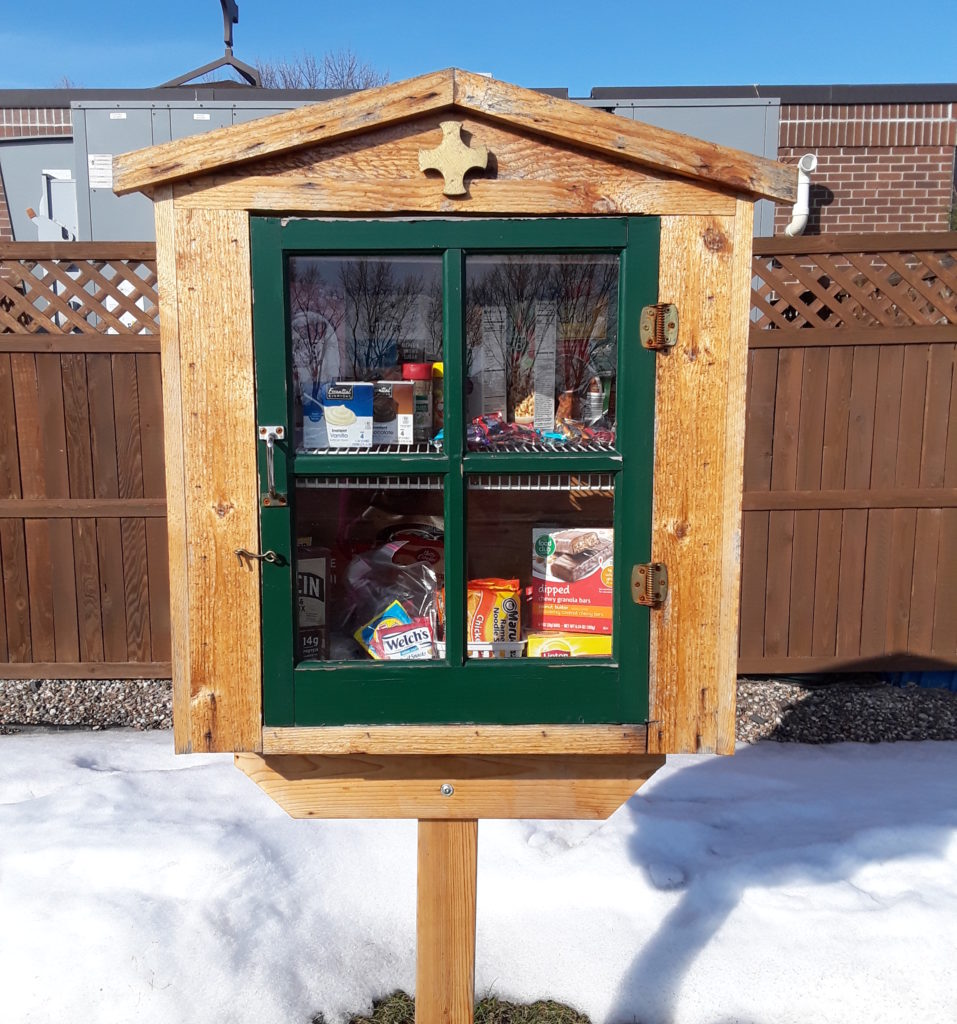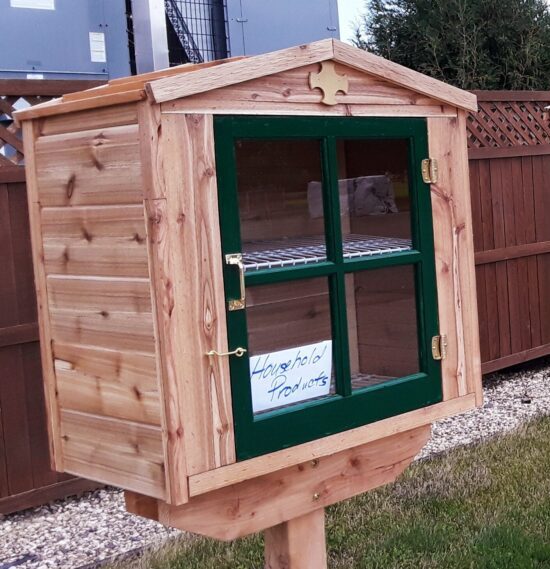 Peace Center
The Peace Center is New Prague's food distribution center serving nearly 5000 individuals per year with their everyday needs. They rely on area businesses and individuals for food and monetary donations.
Beacon Interfaith Housing Network
Holy Trinity Lutheran, along with other churches in the New Prague area, are part of a larger group of churches in the southwest suburbs that provide housing for families with children that are currently homeless. Families rotate between the churches and communities on a weekly basis. Hope House coordinates a temporary shelter for up to 16 occupants for two-week periods.
Cristo Obrero
Holy Trinity is partnered with Cristo Obrero (Christ the Worker) to start a new church for Latino families in the Shakopee and Chaska area.
Bega Kwa Bega
Bega Kwa Bega is a joint ministry between communities of faith in the ELCA and Evangelical Lutheran Church in Tanzania, whose purpose is to proclaim the Gospel of Jesus Christ, to extend Christian hospitality, and to strengthen relationships with one another through the shared practices of prayer, presence, and projects.
The Minneapolis Area Synod works together so that all experience gracious invitation into life-giving Christian community and live in just and healthy neighborhoods.
River Valley Health Services
Dedicated to promoting community wellness through serving vulnerable individuals and ensuring access to health resources in our community. River Valley Health Services focuses on health and the heart of service built on relationships, respect and dignity with our uninsured clients. Our vision for compassionate, timely and accessible health services for all in Scott and Carver counties continues.
Faith, Recovery & Music was founded by HTLC Member, Tim Price. Tim was called to start this non-profit Christian ministry directed towards alcoholics and addicts by means of experience, strength, faith, hope and music.
Cuddle + Kind Dolls
Holy Trinity gives each child a Cuddle + KInd Doll at their baptism. Not only is the doll a great reminder of their special day, it also helps spread the mission of Holy Trinity. The purchase of each doll gives ten meals to children in need.
A New Prague based, non-profit organization that is dedicated to providing resources for mental health awareness and suicide prevention. Our sponsored events reach over 10,000 students, parents, teachers and community members on an annual basis.
NAMI
The National Alliance on Mental Illness (NAMI), is the nation's largest grassroots mental health organization dedicated to building better lives for the millions of Americans affected by mental illness.