Holy Trinity to Continue Annual Thanksgiving Meal
The car turns into the parking lot, slowing as the driver spies the line of vehicles winding around the perimeter, groups of people dropping bags into trunks. It is unusually busy for a Sunday afternoon and, not wanting to disturb, they edge along the side. They are hopeful the Little Free Pantry has a few items left so they angle in that direction. Suddenly a blonde woman with a friendly smile and a wave approaches them. "Would you like a free Thanksgiving dinner?" she calls out.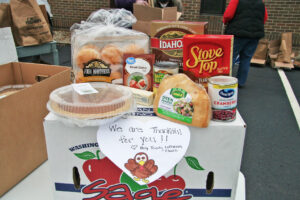 "They were so surprised!" says Donna Galvin, HTLC Hospitality Coordinator. "And we had a few meals to spare."
A variation on our annual tradition of a community Thanksgiving Dinner (started by Audre Johnson in 2010), Holy Trinity is again hosting a free Thanksgiving Meal-in-a-Bag Giveaway on Sunday, November 21, 1-3 pm. Anyone interested in a meal is invited to call Donna Galvin (

952-486-3242) to reserve one. Each bag will feed four to six people and include turkey, mashed potatoes, stuffing, cranberries, dinner rolls, a vegetable, and a pie.
Unflappable Donna
Galvin knows her life's vocation.
"Feeding other people is what makes me happy!"
she says, laughing. "And to be able to give back to the community, it makes it all worthwhile."
With her passion for food, it's no surprise that Galvin and the Hospitality Team were able to adjust in 2020 at the onset of the pandemic. They altered the format from a traditional meal served in Fellowship Hall to a sign-up/drive-through. But Galvin was not phased. "I thought it went fabulous! I think it went really well," she says of the pandemic-friendly twist.
This same group of alternately feisty (you know who you are), and helpful people weathered many challenges with the pandemic. They served Sunday morning coffee and even hosted Wednesday night dinners in the parking lot, hauling meals and beverages outside in chilly, windy, or stiflingly hot days. This also did not bother Galvin.
"I rather enjoyed being outside. I told the pastors, '30 below is my limit,'" says our stalwart Galvin. "But yes, I am looking forward to being back inside." (Wednesday night dinners and Sunday morning coffee will be indoors beginning Wed., Nov. 17.)
Legacy of the Endowment Fund
The Thanksgiving meal is funded by the
Holy Trinity Endowment Fund
and a Thrivent Action Grant. "
It is the elected Endowment Team's joy to encourage, receive, and administer gifts to this fund (invested with the Saint Paul Foundation) in a way that honors God and aligns with the vision," says Pastor Alicia Hilding, a member of the Endowment Team.
"[We]
enthusiastically supported Donna and the Hospitality Team's application, believing HTLC's Thanksgiving Meal is a great example of the ministry
this fund was designed to support."
Every year, the
Endowment Team invites new groups to apply
for funding generated by the investment. Their mission is evident in their bylaws.
"The purpose of this fund is to enhance the outreach of Holy Trinity Lutheran Church. Past recipients include the School Supply Drive; Hope House; Faith, Recovery, and Music; and His Haven Ranch.
"The beauty of the Endowment Fund is that it creates a legacy of giving through Holy Trinity Church, year after year, generation after generation, long after the original donation was made," says Jed Trachte, Endowment Team Chair.
So who is invited to sign up for a Thanksgiving Meal-in-a-Bag? "Anyone in the community [and surrounding communities]," says Galvin. "We welcome everybody. It's my job to be with people, to feed people."
Written by Rose M. Fife, HTLC Communications Specialist