Wednesday Evening Worship
Wednesday evening worship is a mirror of Sunday mornings with a blended style of both traditional Lutheran hymns along with contemporary Christian praise songs. We often update our favorite traditional hymns in a contemporary style.
Wednesday Summer Worship Schedule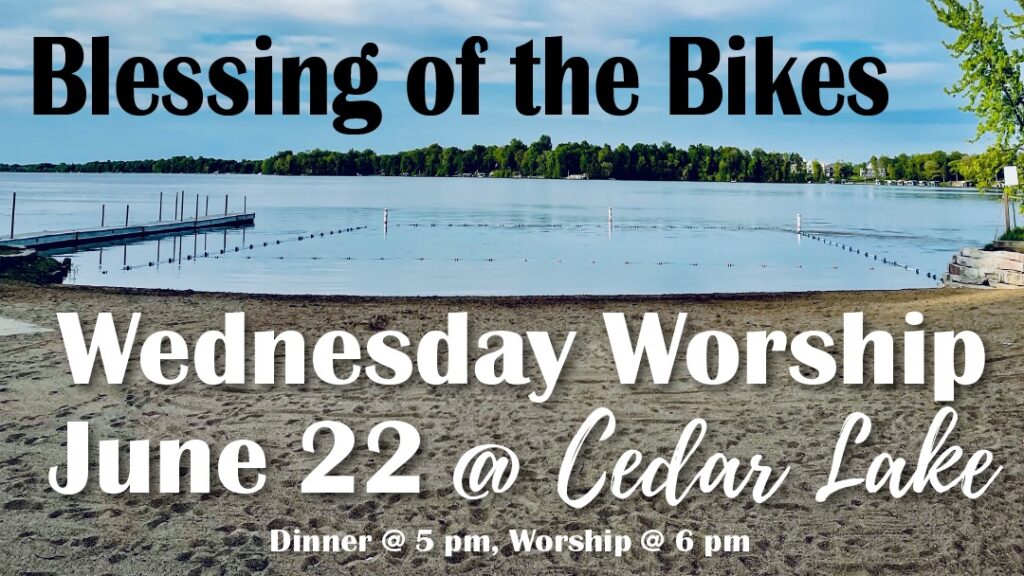 Join us at Cedar Lake for a lakeside, outdoor worship service. Bring a lawn chair or sit at the picnic tables. Supper starts @ 5 pm, Worship @ 6 pm. All are welcome!
June 22 – Blessing of the Bikes

Kids & Adults – bring your bikes for a special blessing!

July 27 – Blessing of the Pets

All God's Creatures! Bring your pets (on a leash or carrier) to receive a special blessing!

August 24 – Blessing of the Backpacks & Lakeside Baptism

All students & educators are invited to bring their backpack for a blessing.

Lakeside Baptism is open to all older youth and adults. Please contact Jamie in the church office if interested.
Fall Session: September 15 – December 8, 2021. Winter/Spring Session: January 5 – May 11, 2022.
Crew time (during worship), Pre-school – 5th Grade, 6:15 – 6:35 pm
Confirmation, 6th – 8th Grade, 6:45 pm – 7:30 pm
Agape, 9th Grade – College, 6:45 pm – 8 pm
Families with Children
Children are always welcome in worship.