Vaccination Volunteer Shares His Story
Dr. Timothy Miller is making people cry.
After administering the COVID-19 vaccine, he turns to every person receiving the dose and says, "I'd like to say something very personal to you. I'd like to thank you for what you have done for yourself, for your family, and for somebody you haven't even met yet." Inevitably, people tear up.

"I've seen both men and women with tears of joy," he says. "These are not sad tears. They say, 'Now I can go see my grandma I haven't been able to see.' They tell me their uncle or dad has died of COVID and they realize this is the path forward."
Dr. Miller volunteers twice a week, 10-11 hours each day, administering COVID-19 vaccines at the Canterbury Park in Shakopee for Scott County Health. After he and his wife Deb received the Moderna vaccines, he signed up to volunteer at the beginning of February, wanting to return the responsibility of care.
"With my wife and myself, vaccination was emotionally very freeing. We still have to be careful because a lot of the population hasn't been immunized," he says. And he wants to protect that population. Recently retired, Dr. Miller maintains his medical license and is double-boarded in both family medicine and emergency medicine. In practice for 40 years, he worked at Mayo Clinic in New Prague. He and wife Deb, are longtime and active members of Holy Trinity.
Can you still transmit the virus after you have been vaccinated?
Medical opinions differ, but Dr. Miller believes the vaccinated can still transmit the virus to those who have not yet received it. "The vaccinations do not preclude having the virus in you, but it makes you less likely to experience the effects of the virus. Most of it can be dealt with by your own antibody production, but the data in terms of how much you are spreading is very inconclusive." He advocates continuing to wear a mask indoors if in a large group, not able to social distance, or when a private business requires it.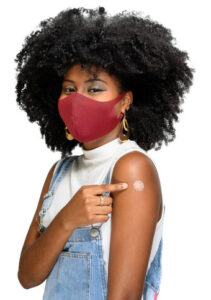 To date, 41% of adults in the US have received the first dose of the vaccine with
26.7% reporting full vaccination.
But the coronavirus has been a hotspot for discussion in the US. "Unfortunately, COVID-19 has been politicized and weaponized," says Dr. Miller. COVID does not respect race, gender, creed, age, or any other factor. It's just a virus and it does what viruses do very well. And yet, it is so subject to misuse for anxiety and control."
Dr. Miller has other advice for those receiving the vaccine. On the day of your appointment, "wear a shirt where you can expose the top of your arm, preferably loose-fitting clothing. Then, you'll get a vaccine card from the CDC. This is a government document. Hold on to this and bring it back for the second vaccine. Keep it with your travel documents. Do not laminate it because you will likely need to add to it. And I would not post [a picture of your vaccine card] on Facebook or anywhere else." (So just aim for that band-aid or your glowingly happy face.)
Any advice on dealing with the side effects?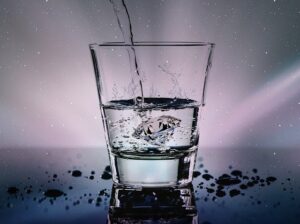 "Do not be afraid to use Tylenol or Advil. But the main thing is fluids. The brain is 70% water, so if your brain gets dry, one of the things it will do is tell you you're nauseated, you have a headache, and you're achy."
Dr. Miller recommends 100-120 ounces of water (12.5-15 8 oz. glasses) over a 24-hour period and taking Tylenol, Advil, or Aleve as directed on the container. "My advice: Don't wait to find out how you're going to feel. Drink like a fish. And I mean water!" he laughs.
What about the COVID variants?
Reports of the coronavirus variants, particularly the B.1.1.7 as it travels across the US, are also worrying for many. Dr. Miller still believes vaccination is the key to getting ahead of the pandemic. "[The variant] is not a problem if you've been vaccinated. The likelihood of COVID being a really terrible disease is 2.5%, but for those people, it's 100% [terrible]. And if they survive, they are weak, ill, and coughing for months."
In the meantime, Dr. Miller will continue volunteering and giving out the vaccine.
"One woman asked me why I signed up to give vaccinations. I told her: 'We are our brother's and sister's keeper. This is not just about you. There are other people. And this is why I recommend the vaccination.' Let's care about one another.'"
To register for the vaccination waiting list, follow these links:
Written by Rose M. Fife, HTLC Communications Specialist
April 22, 2021