Holy Trinity now sports a pair of stylish chairs, a small conference table, and a safe railing in front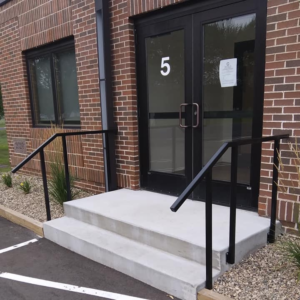 of the new office wing thanks to a memorial gift from Ron Soheim and family.
Ron and his late wife Linda Solheim were married for 47 and a half years. "From the time we said 'I do,' we were married for 17,397 days."
He remembers seeing her and wanting to know her name, if she was single. He bought her a coffee and asked her to dinner. "The first time we went out was August 12. Our first date was at Barnacle Bar at Frontier Dinner Theater (now Chanhassen Dinner Theatre) on August 12. We were engaged by August 24. Twelve days later. My pastor met her and said 'You two are truly soulmates. You are meant to be together.'"
Ron and Linda moved from Chanhassen to New Prague on June 2, 2021 to be closer to family. But they also moved so Ron would have help with Linda's care.
"Linda went into hospice care on March 1, 2021. I was her primary caregiver. I assured her she would never have to leave home, that I would always be with her." When their sons and daughters-in-law, Jeff and Shari Solheim, Brad and Andrea Solheim, became concerned the role was becoming too much for their father, they suggested moving to Praha Village. "Linda loved it here [at Praha]. She said 'We should have done this sooner.'"
An Amazing Memory
The couple made plans to attend and join Holy Trinity. "Both of us were looking forward to being members of HTLC. She just didn't make it. She passed away at least six months before we thought she would."
Linda passed away the day after Father's Day. "The morning of June 21, the most beautiful person left this life with me to become my most amazing memory."
Ron treasures his life with his wife. "Our life together of 47.5 years was amazing. Linda had Lupus for 38 years. She was struggling with that all the time. Most of the time she had it under control, but for the last 15 years, she also had one of the rarest forms of cancer. She was a fighter."
Despite being new to the community, Ron chose to have Linda's funeral at Holy Trinity thanks to a phone call of sympathy. "The night that Linda passed, Jeff got a phone call from Pastor Alicia. She was extending her sympathies on Mother's passing. She wanted us to know that if we wanted to have a service at Holy Trinity, we were more than welcome to." Two days later, the family met with the pastors and Office Manager Jamie Bisek to plan the service.
Someone Else in Control
"When we were planning the service, we didn't have to do much," says Ron. "Things just fell into place. Someone else was in control." Partway through the meeting, Jamie showed the Solheim family into the sanctuary. Ron looked up at the screen in amazement. "I wanted the hymn 'Holy, Holy, Holy' for the funeral. Jamie was showing us some options and there on the screen were the words for the hymn 'Holy, Holy, Holy.'" The hymn was scheduled for the upcoming Sunday service, but happened to be on the screen at the time of their meeting.
As many churches are limiting the number of attendees, the Solheims were grateful to find a church that would allow a funeral big enough for their family. "Holy Trinity was so welcoming to both myself and my family that I proceeded to join the church. They were so welcoming to us having a service there."
A Memorial For Linda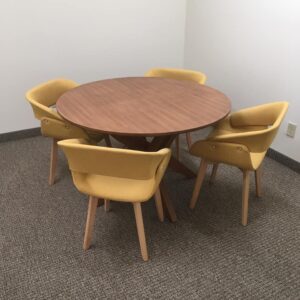 After a few weeks after Linda's passing, Ron began to spend more time at Holy Trinity and noticed a few details. "I just saw some needs. So I asked Pastor Ben and Jamie where there might be a need, a memorial fitting of Linda." Eventually an outside railing, stained glass-style chairs, and a small conference table were purchased as a memorial to Linda from her family.
"Linda would have liked that, having railings for me, especially," Ron says. I can hear the smile in his voice.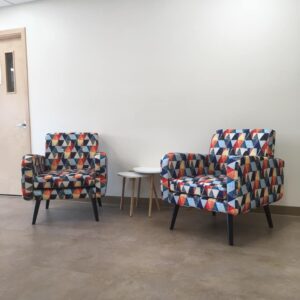 "And she would have loved those chairs. She liked bright colors, and pretty things like those chairs."
Now, thanks to a loving gift from a family, the entrance is safer. The lobby is bright and welcoming with the new chairs. And there is a small, intimate room with comfortable seating to meet, potentially with another grieving family.
Ron knows his wife will always be with him. "All 17,397 days that we were married, I believe every day we told each other 'I love you.' Love never dies. Love is for always."
Written by Rose M. Fife, HTLC Communications Specialist