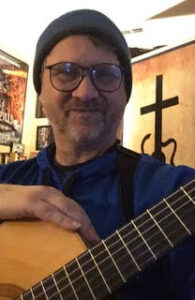 Tim Price feels he is finally heeding God's plan for his life.
"God got real tired of me ghosting his phone calls," he told me during a recent interview. "I think we all have callings and I think we all have opportunities to do things God wants us to do. I'm very fortunate that this has become a no-brainer for me."
Guit
arist Tim Price announced his resignation from the Holy Trinity staff to work f
ull-time with his nonprofit m
i
nistry,
Faith, Recovery & Music.
"The idea is to be a presentation ministry where we go to different churches, teen centers, treatment facilities, prisons…wherever we can bring our testimony. It's all based on the faith and forgiveness of Christ. We share our personal stories and we do that through words and a whole lotta music."
A recovering addict with 27 years of sobriety, Tim first envisioned the ministry in January 2019. The first presentation, "Duct Tape and Grace," was held at HTLC the following August and on June 9, 2020, Faith, Recovery & Music (FRM) became an official nonprofit.
Turning Fear Into a Challenge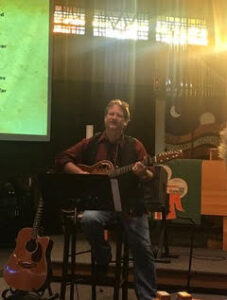 Tim, w
if
e Alyce, and their sons Jeffrey and Daniel moved from Atlanta, GA to New Prague in June 2015 and joined HTLC in August. Tim credits co-Pastor Ben's encouragement with helping him to overcome his fears of singing, telling his story, and leading Wednesday Night Summer Worship.
"In o
rder for this ministry to work, I had to get over a lot of fear," Tim said. "But the thing that's made it less fearful is I truly feel it's a calling. That has turned every fear into a challenge and an obstacle not to be stopped, but to endure and overcome through the grace and strength of Christ."
Tim admits he did not feel comfortable at first. "I feel God has really blessed me by asking me to
do this…which wasn't really the feeling at first." Formerly a partner in a music ministry in Atlanta, GA, Tim didn't feel ready. "I didn't feel I was the person to do it because of how broken I was. I realized that's why God calls on us: because we're broken. Because we can share our flaws. In recovery, there are a lot of things we keep in our head and it becomes a tremendous weight.
You gotta get it out!"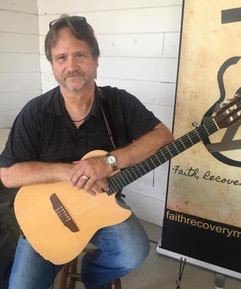 Sometimes You Just Gotta Play…
Faith, Recovery
& Music also includes a lot of music in their
presentations. "For me personally, and I know for
a lot of people, music can touch the soul when words fail," Tim said.
FRM was just getting started when COVID hit and, like most churches and organizations, they had to adjust. "God showed us how to create an online presence. Now we have a
website
and a privat
e Facebook group with a big group of supporters. The biggest response we've had online is our
podcast.
"
His Father's Legacy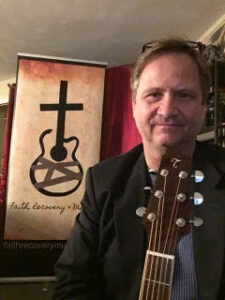 Tim's father plays a large role in his story. Also a recovering addict, he had 32 years of sobriety when he passed away. He frequently attended Alcoholics and Narcotics Anonymous me
etings and handed out cards he'd had printed that read: "I'm not yet the person I want to be, but I'm not the person I used to be." Tim inherited a l
arge box of those cards and now do
es the same, handing them out at meetings and recovery presentations.
Leap of Faith
Leaving Holy Trinity's staff was a
Leap of Faith
, Tim will always have memories of favorite services. "Hands down, Christmas Eve every year was my favorite service to play! I love the services when we could all be there. You have that warm, Christmas-y feeling. Late night Christmas Eve services have always been a favorite, but even more so at Holy Trinity. I get a little va-klempt." he says, laughing.
Tim has also enjoyed getting to know the people of HTLC through
their musical preferences.
"My favorite thing about HTLC is hands-down the people. What I've loved about being in the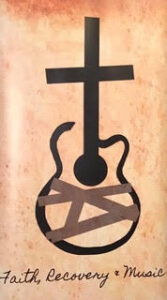 band is getting to hear what all the people really love in terms of the music. I've learned a lot about people by the music they like. I gravitate to that. But the greatest thing about that was the band was always able to accommodate those requests! Holy Trinity changed my life.
I've learned so much."
Time is a Valuable Asset
More than ever, Tim feels now is the right time to move forward with his plan. "I'm 55 years old and time for this ministry to flourish has become my most valuable asset. I look at my life… I look at the years I toured, my faith, my recovery and what I've done my entire life and it just becomes a no-brainer: Faith, Recovery, and Music."
Tim's last service will be
Wednesday, May 26, 6 pm
, in the HTLC parking lot where he will be joined with the rest of the HTLC Band for the first time since our last in-person service on March 15, 2020.
Written by Rose M. Fife, HTLC Communications Specialist