Stories of Hope during COVID
Death is always difficult, but losing a loved one during a global pandemic adds layers of complications.
This fall several members of Holy Trinity passed away, leading families and the staff to pioneer new formats for memorial services.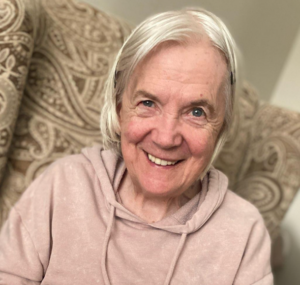 Dennis Jasperson felt he was losing his wife Dorothy to Parkinson's disease
for many years. He was still surprised when she passed away in October 2020. "It was a shock when she died. I went [to see her] on the last day that Praha Village allowed visitors," he said over the phone. After quarantining for 10 days before, he was finally able to be with her for an hour and a half.
"That was the first time since March that we'd been in the same room." For seven months, Jasperson was only able
to visit his wife through a window at Praha Village or send her daily notes through the mail.
"I knew I was taking a chance visiting her, but…. it was a highly valued time."
The next day, Praha Village tested everyone for COVID. Dennis received a call a few hours later that Dorothy had tested positive for the disease and within a few days, her condition worsened. She was sent to a hospital in Minneapolis.
Not able to be with her in person, Dennis called as often as he was allowed. "It was very hard on her. She was crying all the time. After a few days we were finally able to go and see her, but by then she wasn't conscious." Dennis takes a moment to breathe. "She passed away the next morning," he says quietly and the heartbreaking reality of his story hits me. "
We talk about our faith… This has been the greatest test I can ever have."
Humanity is trying to reconfigure life within the restrictions of COVID-19. But funerals have brought very specific challenges:
How do we say 'Good-bye' to a loved one if we are not allowed to be with them? How do we celebrate their lives when attendance at funerals are limited? And how do we physically comfort friends and family when six feet apart is required?
"Preparing for the funeral was so different because we couldn't have our relatives present," Dennis tells me after a pause. "I was so appreciative of the [members of the] church. The drive-by was so meaningful and supportive."
Sometime during the planning for his wife's funeral, Dennis realized he wasn't just adjusting to the loss of his wife, he was ill. After the funeral, he was tested and diagnosed with COVID-19. "I couldn't grieve for a while. I was so sick that I couldn't think about anything but getting well."
Dennis suffered a high fever and chills for two and a half weeks, but he credits his friends with keeping him going. "The Amazing Grays group has been so good. When I got sick, they made sure I had plenty to eat. They've been so supportive with cards and food." He admits he still doesn't feel "back to normal," a month later.
In the end, Dennis was relieved the in-person funeral was small. "Preparing for the funeral was so different because we couldn't have our relatives present. I regret we couldn't have a church service for Dorothy. She has a large extended family and I know there are many people who couldn't come. But I wouldn't have had the strength for a large funeral. I was starting to feel very sick, and I don't think I could have done it."
Dennis continues to have hope for the future.
"I'm having a tough time, but there's always a door in the wall of grief.
That door is the future; we have to look forward to that!" he tells me. "Life really is short. I've learned over the past years how important relationships are. I'm going to continue building those relationships.
When Sharon Gillingham passed away this fall, it was left to her son, Todd Gillingham, and his siblings to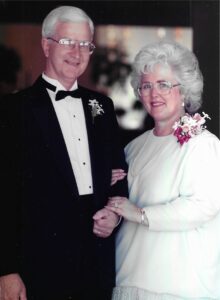 plan the memorial service. Thankfully, a previous connection with the Hilding family made it easier.
"It was a blessing to have people like Pastors Ben and Alicia [Hilding] to fall back on. We thought, 'A death has occurred, now what? Especially in this environment where we cannot mourn or grieve or celebrate life as we could before. Mom died in MN. We live in WI. How is this going to work?"'
Together Pastor Ben, Visitation Pastor Diane Goulson, and Todd and his siblings planned the virtual service
.
A family effort,
one of Sharron's sons played the clarinet, the other read Scripture, one granddaughter sang, another granddaughter read a poem, a few grandsons played jazz guitar, and Todd played the piano. Later, Pastor Diane
led the family in a private interment.
"It was nice to have that connection with the pastors. Both Diane and Ben knew [our mother]."
Watching the memorial service online with his wife and sons, Gillingham was surprised at how much he appreciated the new format. "My siblings and I thought this might be hard, but we knew it was worth it. Mom was worth it," Gillingham says. The family now has a 33-minute video commemorating the life of their mother they can see anytime. "It's not about us. It's a keepsake we'll always have."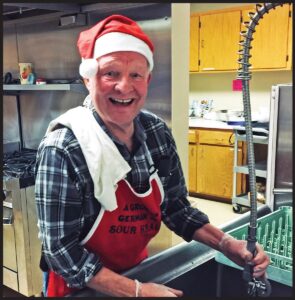 Joanne Reemts was astonished at the outpouring of love for her husband Jim at his passing in October.
"I always thought I was biased because he was my husband, but I was surprised. All the cards I got about his smile, his attitude, and his laugh," she tells me over the phone. "He was German, he had his faults," she deadpans, "but he was a great guy!"
Jim had heart issues and in May 2020, suffered a minor stroke. "That was my first experience with COVID," Joanne says. "I had to leave him at the door of the Emergency Room and pick him up later." Due to the pandemic, only patients were allowed into the emergency room.
Jim and Joanne had a difficult summer with Jim's health declining quickly, but they relied on their faith for strength. Five times this spring, she drove him to the Emergency Room in Minneapolis, left him at the door, and drove home alone. "
I just came home and prayed. I always knew he was in good hands.
I never knew how many COVID cases the hospital had or where they were in relation to him, but I never felt unsafe having him in the hospital. It was just the idea that I couldn't be with him when he was in the ER." By the afternoon, usually several hours later, a bed in the hospital was found and Joanne could drive back to be with him.
After several hospital visits, the doctors decided the heart medication was causing his kidneys to fail and the next step was dialysis. "That was really hard on him. It wasn't doing what it was supposed to for him," Joanne says. "He told me, 'This is not living,' so we took him off dialysis." Jim was able to spend his remaining time at home on hospice, surrounded by his wife and kids. He lived eight more days.
Joanne appreciated the small, quiet memorial service for Jim in October. "We both agreed we couldn't have handled [planning] a large funeral. We thought our COVID funeral was actually nice."
Like Dennis, Joanne also credits the Amazing Grays group for helping her during this process. "I miss them. I look forward to a time we can get together again."
Written by Rose M. Fife, HTLC Communications Specialist