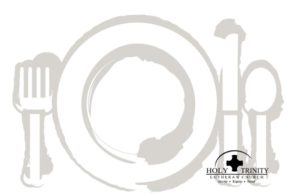 Wednesday Meals
Served weekly from 5:00 – 5:50pm.
11/27 No Wednesday Night Dinner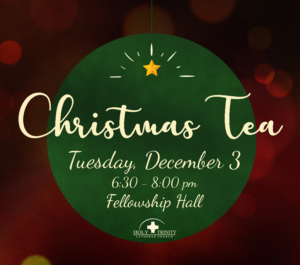 Christmas Tea
Shopping, cooking, decorating, wrapping, entertaining, sending out cards……..do you feel your stress level rising just reading this? Please join us Tuesday December 3rd from 6:30-8:00 p.m. for the Holy Trinity Christmas Tea. The Tea is a time for adult women of the community to come together in fellowship. It is a stress-free time before the joyful chaos of the Christmas season begins. There are two ways to participate. Host a table or attend as a guest. Hostess duties include decorating and setting the table, preparing a snack or dessert, and inviting guests. If you would like to host a table but feel a bit overwhelmed, find a partner and share in the hostess duties. Coffee, tea and water will be supplied. Sign up by
clicking here
. You do not need to be a member of Holy Trinity to participate.
Welcome to Holy Trinity Lutheran Church!
Thank you for visiting us online! We are a congregation of warm, welcoming people who are reaching out to new people with the love and grace of Jesus Christ. Take a look at our calendar and pick a time to visit us! We look forward to seeing you!
**Sunday worship at 9am and Wednesday worship at 6pm with dinner being served at 5pm!**