This month, New Prague alum Michael Lunder will join the Holy Trinity staff as the new Digital Children's Choir Director.
"I'm super excited!" says Lunder. "I know I'm going to be learning a lot and having fun along the way. I can't wait!"
While the pandemic initially forced us to close our doors and move to an online format in March 2020, it was apparent there were many benefits to the services. And adorable children singing worship songs was certainly one of them! Lunder will help to choose music appropriate for the kids, teach them virtually, and then edit the music and videos shown in both the online and in-person services.
An avid performer, Lunder has spent his adult life teaching music to kids. He toured for five and a half years with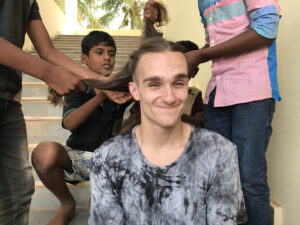 the Young Americans, a nonprofit that seeks to "inspire the world through music." Traveling to over 14 counties, he taught kids about music, dance, gymnastics, choreography, and musical theatre.
Lunder first appeared on our online service last December, singing with Choir Director Toby Thietje, NPHS Choir Director Nicole Thietje, and Minneapolis vocalist Jordan Leggett after telling the Thietjes he would like to help in any way needed. When Pastor Ben Hilding created this position, Lunder was thrilled. "When I was presented with an opportunity to [teach] virtually, I jumped on it!"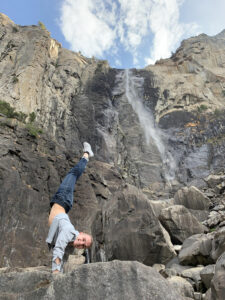 After touring professionally on national tours, Lunder became accustomed to living out of a suitcase. "Moving is second nature for me, I'm quite nomadic. But with this virtual option, we can schedule things with the kids that work for everybody. It's more accessible for them and for me."
Faith Journey
Lunder was baptized and confirmed at Holy Trinity, but did not attend regularly. Growing up, his family went to church on Christmas and Easter, but faith was not a focus in their household. "I didn't grow up in the church, I grew up church-adjacent."
While on a performance tour a few years ago, Lunder's roommate asked him to go to church with her. "I went to this non-denominal church in Southern California. We walked in during worship and I was just flooded. I felt the Holy Spirit, felt the Holy Ghost, I completely fell in love with Christ at that point!" Lunder then made it a point to attend churches while on tour.
Mentored by the Thietjes
Lunder credits one person in particular for guiding him. "Toby's mother [Addy Thietje] is the reason I perform. She took my hand and led me down the right path many times." After forgetting to sign up for show choir or the musical, Ms. Thietje would find him and encourage him to do so. "Thank God she did because I would not be here without her…or the whole Thietje family, honestly."
Nicole Thietje, Lunder's choir director in high school, was also a mentor and helped to steer his path. "I had a secret internal calling to become a performer. It was something I loved, but back then it was not big for guys to be doing choir or musicals. I didn't really believe in myself, but the Thietjes saw something."
Family Tragedy
As the fifth of six children, Lunder was seven years old when his younger brother, Kyle was diagnosed with cancer. After fighting bravely for two years, Kyle passed away at the age of five. The emotional toil on the family was devastating. "Financially and emotionally… everything and everyone was just drained,"says Lunder. "I grew up quickly after that."
Not wanting to burden his parents further, Lunder made a point to bury his emotions. "I was really good at hiding my feelings. I never cried; everything was smooth sailing. And then I found music and that all went out the door!" he laughs.
Lunder believes his life's calling stems from his family's tragedy. "[My brother] is the reason I still do music, and that I'm so passionate about music and teaching music to children. It's so important because it was the first time I realized I could use it as an outlet to express the things I had gone through, the traumas of my childhood. I remember in the moment when I discovered it, it was because I was dancing for him and singing for him and I made the decision then: this is what I want to be doing. I want to be helping other people find that release and the euphoria you find when you get lost in the music."
Tell Me 5 Things that Describe You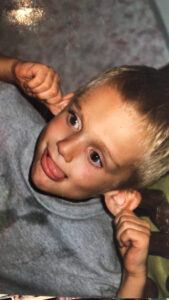 1. "Mischief is always in there. I like to be silly. I always say bugging people is the sixth Love Language and that's what I LOVE to do! It shakes people out of whatever they're going through, brightens their day."
2. Snacks: I love Takis! I also love celery a lot… I know that's bizarre. But I also really love Ice Cream. Favorite kind: Red Velvet Cake Ice Cream.
3. Puppies: I've never
not
had a dog in my home. I just adore them. They're so sweet, and so
smart and so talented and so fun… They're just little balls of love!
4. Water: When I'm near water, I feel the energy. I have the geometrical symbol for water (an inverted triangle) tattooed on my elbow. I've never been able to explain it until I was an adult.
5. Music: I grew up very musically. I was always passionate about good music, but the first time I had a revelation about my connection with music was when I was 13, at a workshop for Young American Workshop, which was one of the reasons I joined them. I found out I could express myself through music. For me, before that, it was not something I could do easily. I didn't talk about feelings; I wasn't comfortable.
To this day, music is the easiest way for me to express what I'm feeling."
Written by Rose Fife, HTLC Communication Specialist