Racial Justice Task Force
Micah 6:8
–
and what does the

Lord

require of you,
but to do justice, and to love kindness,
and to walk humbly with your God?
We commit to prayer, education, and continued soul-searching repentance for racial justice. As persons of faith, we commit to sharing God's love for all people. The diversity of people and thought is fundamental for Christian unity, and our prayer is for our community to come together to listen, to learn, and to develop new relationships. We are working to restore justice and righteousness for all of God's people.
Advocating Racial Justice
Addressing racial injustice has been a part of the Minneapolis ELCA synod and the ELCA in general for many years. The Minneapolis Synod added a resolution addressing racial injustice in 2016, and in 2019, Brenda Blackhawk was hired as a Congregational Organizer for Racial Justice. In response to the murder of George Floyd, the Minneapolis ELCA synod urged all congregations to have conversations about race and how they can take the next steps toward living in their Christian calling. HTLC's Racial Justice Task Force held their first meeting in June of 2020.
Please contact Melissa Horejsi, or call the HTLC office at 952-758-3513 to join this team.
Anti-Racism Library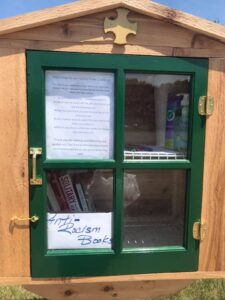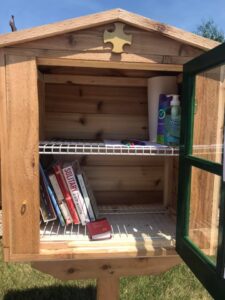 Holy Trinity's Library of Anti-Racism books is located on the south side of the building.
The Racial Justice Task Force is taking inventory and updating the Library of Anti-Racist Books and we need your help! If you borrowed a book over the last year, and are done with it, please bring it back.
Please return any borrowed books to Jamie in the church office.
Thank you for using our Little Free Library!