Racial Justice Task Force
At Holy Trinity, we commit to prayer, education, and continued soul-searching repentance. As persons of faith, we commit to sharing God's love for all people. We believe the diversity of people and thought is fundamental for Christian unity. Our common prayer is that our community comes together to listen, to learn, to develop new relationships and to work to restore justice and righteousness, for all of God's people.
Brenda Blackhawk, Congregational Organizer for Racial Justice with the Minneapolis Area Synod, was hired in 2019 to help congregations have conversations about race and how they can take next steps towards living into their Christian calling. In partnership with Ms. Blackhawk, we began a Racial Justice Task Force in June 2020. If you would like to join this team, please contact Pastor Ben at ben@holytrinityonline.org.
Anti-Racism Little Free Library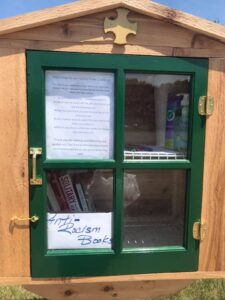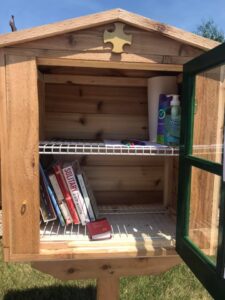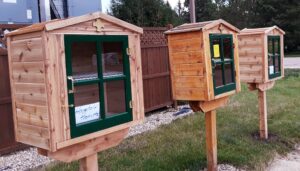 The Holy Trinity Little Free Library of Anti-Racism books is located on the south side of our building. In our trinity of pantries, it is the one on the far right.
Feel free to spread the word in our community to those who would be interested in reading these books – we have something for everyone! Please follow the checkout system so we can see how much the library is being used and when to expect a book back.
Book reviews are located below. To view the complete collection, click here. Thank you for using our Little Free Library!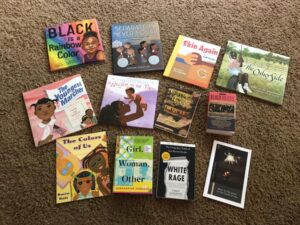 Book Review: "A powerful true story about the potential for mercy to redeem us, and a clarion call to fix our broken system of justice—from one of the most brilliant and influential lawyers of our time.
Bryan Stevenson was a young lawyer when he founded the Equal Justice Initiative, a legal practice dedicated to defending those most desperate and in need: the poor, the wrongly condemned, and women and children trapped in the farthest reaches of our criminal justice system. One of his first cases was that of Walter McMillian, a young man who was sentenced to die for a notorious murder he insisted he didn't commit. The case drew Bryan into a tangle of conspiracy, political machination, and legal brinksmanship—and transformed his understanding of mercy and justice forever.
Just Mercy is at once an unforgettable account of an idealistic, gifted young lawyer's coming of age, a moving window into the lives of those he has defended, and an inspiring argument for compassion in the pursuit of true justice."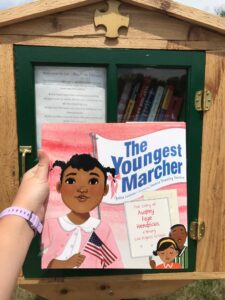 The Youngest Marcher
By Cynthia Levinson
This picture book is a perfect way for elementary aged children to learn a bit about history and see just how much they can change the world!
Book Review: "Meet the youngest known child to be arrested for a civil rights protest in Birmingham, Alabama, 1963, in this moving picture book that proves you're never too little to make a difference.

Nine-year-old Audrey Faye Hendricks intended to go places and do things like anybody else.

So when she heard grown-ups talk about wiping out Birmingham's segregation laws, she spoke up. As she listened to the preacher's words, smooth as glass, she sat up tall. And when she heard the plan—
picket
those white stores!
March
to protest those unfair laws!
Fill the jails!—
she stepped right up and said, I'll do it! She was going to
j-a-a-il!


Audrey Faye Hendricks was confident and bold and brave as can be, and hers is the remarkable and inspiring story of one child's role in the Civil Rights Movement."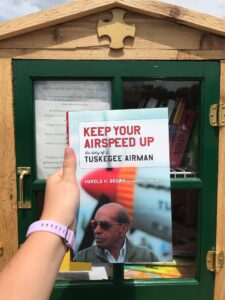 Keep Your Airspeed Up: The Story of a Tuskegee Airmen
By Harold H. Brown
Book Review: Keep Your Airspeed Up: The Story of a Tuskegee Airman is the memoir of an African American man who, through dedication to his goals and vision, overcame the despair of racial segregation to great heights, not only as a military aviator, but also as an educator and as an American citizen. Unlike other historical and autobiographical portrayals of Tuskegee airmen, Harold H. Brown's memoir is told from its beginnings: not on the first day of combat, not on the first day of training, but at the very moment Brown realized he was meant to be a pilot.
He revisits his childhood in Minneapolis where his fascination with planes pushed him to save up enough of his own money to take flying lessons. Brown also details his first trip to the South, where he was met with a level of segregation he had never before experienced and had never imagined possible. During the 1930s and 1940s, longstanding policies of racial discrimination were called into question as it became clear that America would likely be drawn into World War II. The military reluctantly allowed for the development of a flight-training program for a limited number of African Americans on a segregated base in Tuskegee, Alabama.
The Tuskegee Airmen, as well as other African Americans in the armed forces, had the unique experience of fighting two wars at once: one against Hitler's fascist regime overseas and one against racial segregation at home. Colonel Brown fought as a combat pilot with the 332nd Fighter Group during World War II, and was captured and imprisoned in Stalag VII A in Moosburg, Germany, where he was liberated by General George S. Patton on April 29, 1945. Upon returning home, Brown noted with acute disappointment that race relations in the United States hadn't changed. It wasn't until 1948 that the military desegregated, which many scholars argue would not have been possible without the exemplary performance of the Tuskegee Airmen.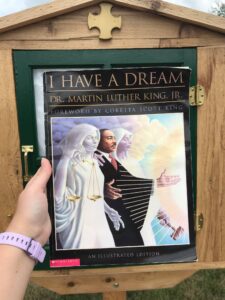 By Dr. Martin Luther King Jr.
Even the youngest of readers will enjoy looking at the beautiful illustrations in this book.
Book Review: From Dr. Martin Luther King, Jr.'s daughter, Dr. Bernice A. King: "My father's dream continues to live on from generation to generation, and this beautiful and powerful illustrated edition of his world-changing "I Have a Dream" speech brings his inspiring message of freedom, equality, and peace to the youngest among us—those who will one day carry his dream forward for everyone."

On August 28, 1963, on the steps of the Lincoln Memorial during the March on Washington, Martin Luther King gave one of the most powerful and memorable speeches in our nation's history. His words, paired with Caldecott Honor winner Kadir Nelson's magnificent paintings, make for a picture book certain to be treasured by children and adults alike. The themes of equality and freedom for all are not only relevant today, 50 years later, but also provide young readers with an important introduction to our nation's past.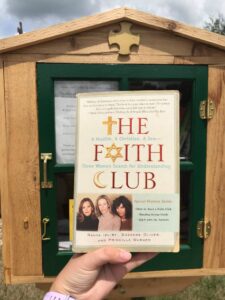 By

Priscilla Warner, Ranya Idliby, and Suzanne Oliver
Book Review:
"A groundbreaking book about Americans searching for faith and mutual respect, The Faith Club weaves the story of three women, their three religions, and their urgent quest to understand one another.
When an American Muslim woman befriends two other mothers, one Jewish and one Christian, they decide to educate their children about their respective religions. None of them guessed their regular meetings would provide life-changing answers and form bonds that would forever alter their struggles with prejudice, fear, and anger. Personal, powerful, and compelling, The Faith Club forces readers to face the tough questions about their own religions.
Pioneering, timely, deeply thoughtful, and full of hope, The Faith Club's caring message will resonate with people of all faiths."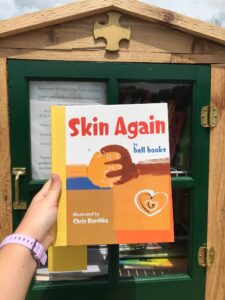 By
Bell Hooks and Chris Raschka
This book is perfect for pre-school and Kindergarten students.
Book Review: "The skin I'm in is just a covering. It cannot tell my story. The skin I'm in is just a covering. If you want to know who I am, you have got to come inside and open y

our heart way wide.


Celebrating all that makes us unique and different,
Skin Again
offers new ways to talk about race and identity. Race matters, but only so much—what's most important is who we are on the inside. Looking beyond skin, going straight to the heart, we find in each other the treasures stored down deep. Learning to cherish those treasures, to be all we imagine ourselves to be, makes us free.

This award-winning book, with its myriad of faces, introduces a strong message of loving yourself and others that will appeal to parents of our youngest readers."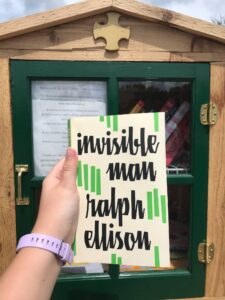 Invisible Man
Book Review: "Both a deeply compelling bestselling novel and an epic milestone of American literature.
The book's nameless narrator describes growing up in a black community in the South, attending a Negro college from which he is expelled, moving to New York and becoming the chief spokesman of the Harlem branch of "the Brotherhood", before retreating amid violence and confusion to the basement lair of the Invisible Man he imagines himself to be.
Originally published in 1952 as the first novel by a then unknown author, it remained on the bestseller list for sixteen weeks, won the National Book Award for fiction, and established Ralph Ellison as one of the key writers of the century. The book is a passionate and witty tour de force of style, strongly influenced by T.S. Eliot's The Waste Land, Joyce, and Dostoevsky."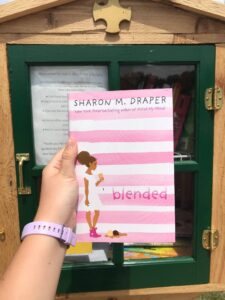 Blended
This book is perfect for students 4th-7th grade and covers multiple important topics, including living with divorced parents and the issues faced by children of color.
Book Review: Eleven-year-old Isabella's blended family is more divided than ever in this thoughtful story about divorce and racial identity from the award-winning and New York Times bestselling author of Out of My Mind, Sharon M. Draper.
Isabella's parents are divorced, so she has to switch lives every week: One week she's Isabella with her dad, his girlfriend Anastasia, and her son Darren living in a fancy house where they are one of the only black families in the neighborhood. The next week she's Izzy with her mom and her boyfriend John-Mark in a small, not-so-fancy house that she loves.
Because of this, Isabella has always felt pulled between two worlds. And now that her parents are divorced, it seems their fights are even worse, and they're always about HER. Isabella feels even more stuck in the middle, split and divided between them than ever. And she's is beginning to realize that being split between Mom and Dad is more than switching houses, switching nicknames, switching backpacks: it's also about switching identities. Her dad is black, her mom is white, and strangers are always commenting: "You're so exotic!" "You look so unusual." "But what are you really?" She knows what they're really saying: "You don't look like your parents." "You're different." "What race are you really?" And when her parents, who both get engaged at the same time, get in their biggest fight ever, Isabella doesn't just feel divided, she feels ripped in two. What does it mean to be half white or half black? To belong to half mom and half dad? And if you're only seen as half of this and half of that, how can you ever feel whole?
It seems like nothing can bring Isabella's family together again—until the worst happens. Isabella and Darren are stopped by the police. A cell phone is mistaken for a gun. And shots are fired.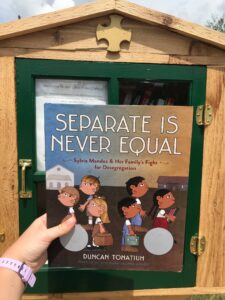 A great history book for young readers!
Book Review: "When her family moved to the town of Westminster, California, young Sylvia Mendez was excited about enrolling in her neighborhood school. But she and her brothers were turned away and told they had to attend the Mexican school instead. Sylvia could not understand why—she was an American citizen who spoke perfect English. Why were the children of Mexican families forced to attend a separate school? Unable to get a satisfactory answer from the school board, the Mendez family decided to take matters into its own hands and organize a lawsuit.

In the end, the Mendez family's efforts helped bring an end to segregated schooling in California in 1947, seven years before the landmark Supreme Court ruling in "

Brown v. Board of Education

ended segregation in schools across America.

Using his signature illustration style and incorporating his interviews with Sylvia Mendez, as well as information from court files and news accounts, award-winning author and illustrator Duncan Tonatiuh tells the inspiring story of the Mendez family's fight for justice and equality."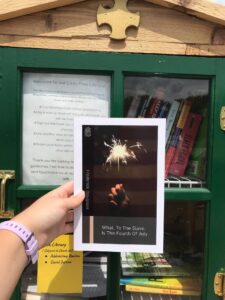 What, To The Slave, is the Fourth of July
This famous speech was given nearly two centuries ago, but it is still as relevant as ever.
Frederick Douglass was invited to give a keynote oration at an Independence Day celebration on July 5, 1852. In front of President Millard Fillmore and a l

arge crowd, he gave a powerful speech asking "What to the Slave is the Fourth of July?"
In his speech, while he acknowledged the greatness and work of the founders of the United States, he delivered an impassioned polemic against slavery and decried the hypocrisy of American government in the 1850s.
In perhaps the greatest line of his speech, he said, "I say it with a sad sense of the disparity between us. I am not included within the pale of glorious anniversary! Your high independence only reveals the immeasurable distance between us."
His notes for the speech were over ten thousand words, which would have taken over an hour to deliver in full.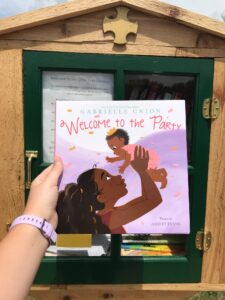 Welcome to the Party
Book Review: Inspired by the eagerly awaited birth of her daughter, Kaavia James Union Wade, New York Times bestselling author and award-winning actress Gabrielle Union pens a festive and universal love letter from parents to little ones, perfect for welcoming a baby to the party of life!
Reminiscent of favorites such as The Wonderful Things You'll Beby Emily Winfield Martin, I've Loved You Since Forever by Hoda Kotb, and Take Heart, My Child by Ainsley Earhardt, Welcome to the Party is an upbeat celebration of new life that you'll want to enjoy with your tiny guest of honor over and over again.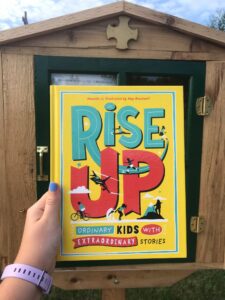 Rise Up : Ordinary Kids with Extraordinary Stories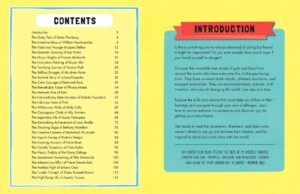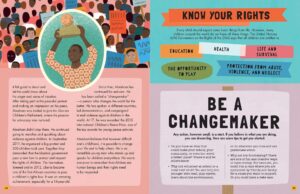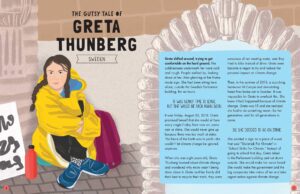 Ghost Boys
This books is recommended for readers around 4th-8th grade.
Book Review: "Twelve-year-old Jerome is shot by a police officer who mistakes his toy gun for a real threat. As a ghost, he observes the devastation that's been unleashed on his family and community in the wake of what they see a

s an unjust and brutal killing.



Soon Jerome meets another ghost: Emmett Till, a boy from a very different time but similar circumstances. Emmett helps Jerome process what has happened, on a journey towards recognizing how historical racism may have led to the events that ended his life. Jerome also meets Sarah, the daughter of the police officer, who grapples with her father's actions.

Once again Jewell Parker Rhodes deftly weaves historical and socio-political layers into a gripping and poignant story about how children and families face the complexities of today's world, and how one boy grows to understand American blackness in the aftermath of his own death."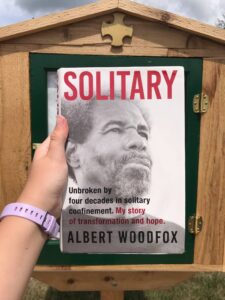 Solitary
Book Review: "Solitary is the unforgettable life story of a man who served more than four decades in solitary confinement―in a 6-foot by 9-foot cell, 23 hours a day, in notorious Angola prison in Louisiana―all for a crime he did not commit. That Albert Woodfox survived was, in itself, a feat of extraordinary endurance against the violence and deprivation he faced daily. That he was able to emerge whole from his odyssey within America's prison and judicial systems is a triumph of the human spirit, and makes his book a clarion call to reform the inhumanity of solitary confinement in the U.S. and around the world.
Arrested often as a teenager in New Orleans, inspired behind bars in his early twenties to join the Black Panther Party because of its social commitment and code of living, Albert was serving a 50-year sentence in Angola for armed robbery when on April 17, 1972, a white guard was killed. Albert and another member of the Panthers were accused of the crime and immediately put in solitary confinement by the warden. Without a shred of actual evidence against them, their trial was a sham of justice that gave them life sentences in solitary. Decades passed before Albert gained a lawyer of consequence; even so, sixteen more years and multiple appeals were needed before he was finally released in February 2016.
Remarkably self-aware that anger or bitterness would have destroyed him in solitary confinement, sustained by the shared solidarity of two fellow Panthers, Albert turned his anger into activism and resistance. The Angola 3, as they became known, resolved never to be broken by the grinding inhumanity and corruption that effectively held them for decades as political prisoners. He survived to give us Solitary, a chronicle of rare power and humanity that proves the better spirits of our nature can thrive against any odds."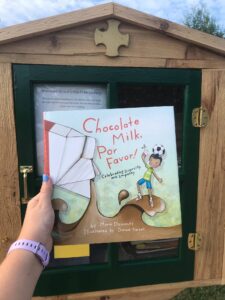 Chocolate Milk, Por Favor!
Book Review: "Johnny is a big fan of school but that all changes when the new kid, Gabe arrives. Gabe doesn't speak any English, and that doesn't stop Johnny from going out of his way to be unkind.
But what will Johnny do when Gabe starts to make new friends? Will he join in the fun of making a new friend or turn the other way?
Johnny discovers a powerful message in this student differences are celebrated. Read to find out how chocolate milk plays a major role in the discovery of the real universal language."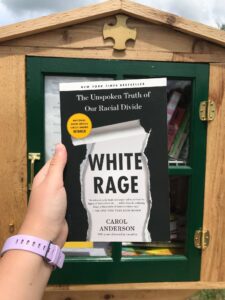 White Rage
This book has won many awards since it was published in 2016, including the National Book Critics Circle Award and Washington Post Notable Nonfiction Book of the Year.
Book Review: "As Ferguson, Missouri, erupted in August 2014, and media commentators across the ideological spectrum referred to

the angry response of African Americans as 'black rage', historian Carol Anderson wrote a remarkable op-ed in the

Washington Post

showing that this was, instead, 'white rage at work. With so much attention on the flames,' she wrote, 'everyone had ignored the kindling.'
Since 1865 and the passage of the Thirteenth Amendment, every time African Americans have made advances towards full participation in our democracy, white reaction has fueled a deliberate and relentless rollback of their gains. The end of the Civil War and Reconstruction was greeted with the Black Codes and Jim Crow; the Supreme Court's landmark 1954
Brown v. Board of Education
decision was met with the shutting down of public schools throughout the South while taxpayer dollars financed segregated white private schools; the Civil Rights Act of 1964 and Voting Rights Act of 1965 triggered a coded but powerful response, the so-called Southern Strategy and the War on Drugs that disenfranchised millions of African Americans while propelling presidents Nixon and Reagan into the White House.
Carefully linking these and other historical flashpoints when social progress for African Americans was countered by deliberate and cleverly crafted opposition, Anderson pulls back the veil that has long covered actions made in the name of protecting democracy, fiscal responsibility, or protection against fraud, rendering visible the long lineage of white rage.
Compelling and dramatic in the unimpeachable history it relates,
White Rage
will add an important new dimension to the national conversation about race in America.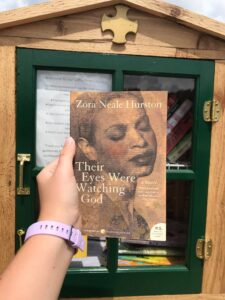 Their Eyes Were Watching God
Originally published in the 1930s, this book faced a tough beginning before becoming the classic that it is today.
Book Review: "When first published in 1937, this novel about a proud, independent black woman was generally dismissed by male reviewers. Out of print for almost thirty years, but since its reissue in paperback edition by the University of Illionois Press in 1978, Their Eyes Were Watching God has become the most widely read and highly acclaimed novel in the canon of African-American literature.
With haunting sympathy and piercing immediacy, Their Eyes Were Watching God tells the story of Janie Crawford's evolving selfhood through three marriages. Light-skinned, long-haired, dreamy as a child, Janie grows up expecting better treatment than she gets until she meets Tea Cake, a younger man who engages her heart and spirit in equal measure and gives her the chance to enjoy life without being a man's mule or adornment. Though Jaine's story does not end happily, it does draw to a satisfying conclusion. Janie is one black woman who doesn't have to live lost in sorrow, bitterness, fear, or foolish romantic dreams, instead Janie proclaims that she has done "two things everbody's got tuh do fuh theyselves. They got tuh go tuh God, and they got tuh find out about livin' fuh theyselves."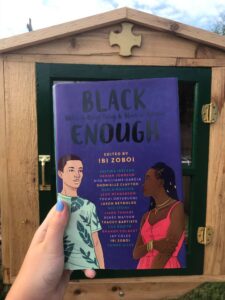 Black Enough: Stories of Being Young and Black in America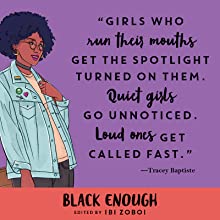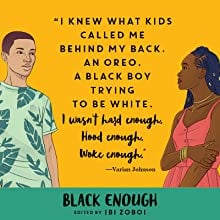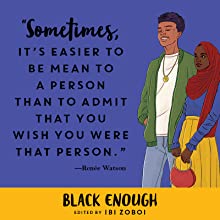 STATEMENT ON RACIAL JUSTICE
We say his name: George Floyd.
Here at Holy Trinity, we grieve his death, we condemn the sins of racism and white supremacy in all forms, and we commit to seek racial justice in this community.
In Genesis, we hear that we are made in the image of God. Jesus came to reiterate that God's love extended from the Jews to the Gentiles. All people are infinitely loved by the very God who created them. We believe we are wonderfully different.
But in the aftermath of George Floyd's murder, voices continue to declare that systemic oppression of people of color still exists. While it is tempting to blame someone else, we believe that we all need to recognize our own faults for the problem, as well as our own responsibilities for the reconciling work that needs to be done.
We confess our sin, that we have let racial biases take root in our country, in our community, in our church, and in ourselves. We apologize to people of African descent for what we have done and what we have failed to do. It is time to commit to the difficult work of naming and repenting from the ways we have been silent in the face of racial injustice. Black lives matter.
As a denomination, the ELCA stands in solidarity with the victims of racial injustice. Bishop Elizabeth Eaton issued numerous pastoral responses denouncing white supremacy and addressing George Floyd's murder. In 1993, the ELCA created a social statement titled "Freed in Christ: Race, Ethnicity, and Culture," which confesses the church's historic enslaving patterns of injustice, but commits to working toward genuine cultural diversity. At the 2019 Churchwide Assembly, the ELCA reaffirmed this commitment to combat racism and white supremacy. This resolution states,
"As persons called to love one another as God has loved us, we therefore proclaim our commitment to speak with one voice against racism and white supremacy. We stand with those who are targets of racist ideologies and actions."
On Friday, May 29, the conference of bishops reaffirmed this commitment. Our local bishop, Rev. Ann Svennungsen, issued a statement that gives guidance for our area ELCA congregations. Calling them to work together, she states that when it comes to racial inequalities, "Neutrality isn't really an option."
So, Holy Trinity, what can we do?
When issues arise in our world, we want to be a church that responds. In the aftermath of the riots in the Twin Cities, there is much long-term work to repair the community, but right now people have an immediate need for food and supplies. Two ELCA congregations are trusted drop-off sites and community leaders in this reparation work: Holy Trinity Lutheran Church, and Calvary Lutheran Church. Our Mission/Outreach team of Holy Trinity is giving each of these congregations $1,500, for a total of $3,000, to support their pop-up food shelves.
What else can we do? We can commit to educating ourselves. We purchased Lenny Duncan's, Dear Church for everyone on staff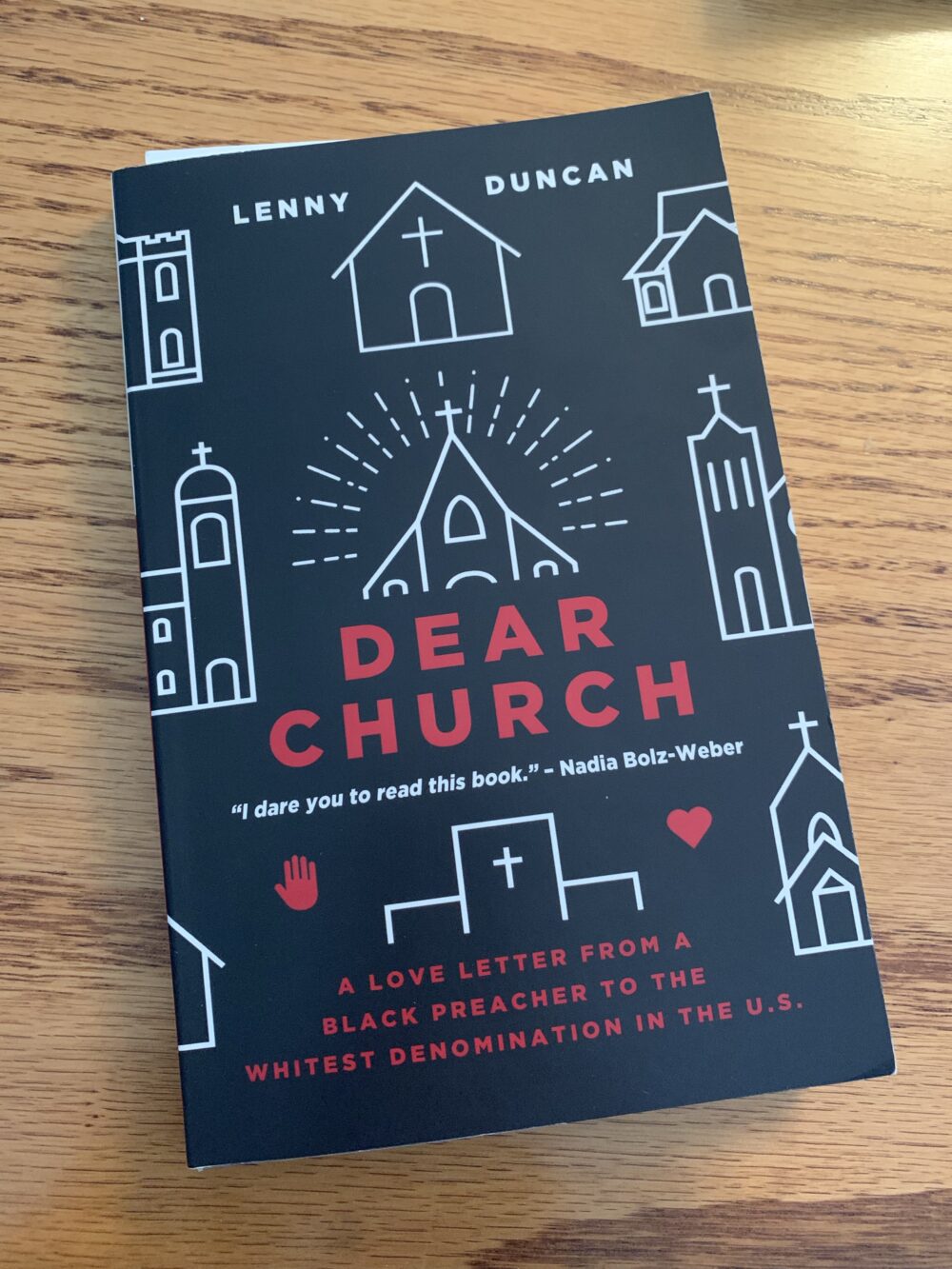 and council. Published in 2019, Duncan was formerly incarcerated and homeless. He is now a black pastor in the ELCA, unfortunately the whitest denomination in the United States. Duncan refers to this book as a love letter, and he offers a bold new vision for the ELCA going forward that sees church renewal through the lens of racial equity and justice. As leaders of the congregation, we commit to reading this book together and having conversations that help us address racism within our church and within ourselves, and work toward a more inclusive congregation.
What else can we do? Brenda Blackhawk, Congregational Organizer for Racial Justice with the Minneapolis Area Synod, was hired in 2019 to help congregations have conversations about race and how they can take next steps towards living into their Christian calling. In partnership with Ms. Blackhawk, we will begin a Racial Justice task force here at Holy Trinity. If you feel called to be on this particular team, please email ben@holytrinityonline.org.
In addition, may we all commit to prayer, education, and continued soul-searching repentance. As persons of faith, we commit to sharing God's love for all people. We believe the diversity of people and thought is fundamental for Christian unity. Our common prayer is that our community comes together to listen, to learn, to develop new relationships and to work to restore justice and righteousness, for all of God's people.
Pastors Alicia and Ben Hilding