HTLC Staff Member Transfers to Working Remotely Permanently
Karen Taylor radiates joy as she tells me about ripping up walls and tearing apart wooden structures. Through the Zoom video, behind her I can see a stripped ceiling and evidence of other house projects on their new home on Lake Zumbro.
"It was time to downsize," says Taylor of the New Prague home she shared with her husband, Dr. Rob Taylor, and their two sons, Joe and John. The Taylors recently sold their home when their sons graduated this spring (Joe from UND and John from NPAS), and found they did not have time to mow their 10 acres or plow a long driveway full of snow, formerly the boys' responsibility.
But she's not leaving HTLC! This Sunday, June 27, will be Ministry Coordinator Karen Taylor's last service before she transfers to remote work and her new official title as Web Manager.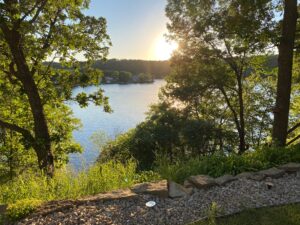 There was another reason for the move. "We really miss living on water," says Taylor of their shared dream to live on a lake. "Even in our early marriage, before we had kids,we lived in towns near the water and we really love it. It's always been our dream to live on water."
Taylor feels it is important to stress that Dr. Taylor is not leaving his practice at Mayo Clinic in Montgomery/New Prague. "That is [Dr. Taylor's] big worry, because that relationship between doctor and patient is sacred. He does not want people to worry he is leaving." Dr. Taylor will be commuting from both his father-in-law's home in Faribault and the Taylor's new home on Lake Zumbro.
Dream Realized
Taylor's passion for building and home design became evident early in her life. "Maybe it was an innate thing. I like to fix
houses and do projects. Whenever I have control of the remote, I am watching HGTV!" she says, laughing. "For the last 20+ years I have been waiting for this house that I can literally get my hands on," she says, flexing her fingers. "And this is the house!"
Likely it will not just be her home that Taylor fixes. "I totally missed my calling. My degree is in occupational therapy. Then we had kids and I changed my focus to them. But if I could go back in time and pick another college degree, it would be construction management!" she says, looking gleeful. "We'll see.. It might be a side hustle."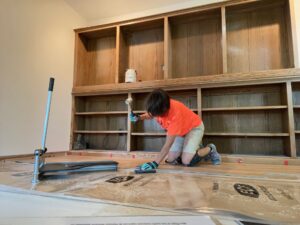 To facilitate the construction process on the Lake Zumbro house while in New Prague, Taylor had cameras and a wi-fi lock installed. From her phone she is able to manage the work and then lock the door when people leave. (How cool is that?!?)
COVID Changes Everything
As in many organizations, COVID left some lasting changes. "My job, prior to COVID, was 80% hands-on at church… organizing volunteers, making sure things ran smoothly during worship services, and learning the soundboard. It was virtually eliminated with COVID."
When COVID hit last March, the staff shuffled duties to accommodate the new remote working style. Taylor now creates the weekly e-newsletter "HTLConnections," and manages the website, a job she has particularly enjoyed. "I'm so glad pastors let me dive into that! The website is the first place many people go when looking at HTLC."
HTLC Online Staff
Taylor joins Angela Schoenbauer, Video Production Coordinator, and Michael Lunder, Digital Children's Choir Director, in working remotely from outside the New Prague area. "I won't be the only staff person doing this. It's kinda cool that we have this technology that allows us to do this."
Despite the new projects and joy they bring her, Taylor knows it will be difficult to leave. "I will miss Holy Trinity. It was good to see everyone's faces when we opened up."
Benefits of Online Service
Like many, Taylor appreciates many aspects of the online service, but the best part for her is the ability to actually participate in worship. As the "boots-on-the-ground-person," Taylor is usually adjusting the soundboard, checking the microphones, and making sure the volunteers know where to go. With this new opportunity, she will continue to watch and be with us virtually.
"I didn't want to quit Holy Trinity, so I was so happy the pastors offered me this option. I love my co-workers. The team is amazing! I love being a part of that. The people, the talent, the pastors… as long as you will have me, I will stay a part of the team."
Karen and the Taylor family, you will be missed! And we are so happy you are following your calling!
Written by Rose Fife, HTLC Communications Specialist