Barb
Warner
knows her favorite service (so far)
.
"I loved the confirmation videos! We got to see each kid and got to know them more than if we'd been in church," she said. "And the kids can keep those videos forever."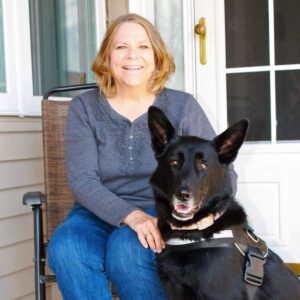 A few days before Sunday, March 15,
Pastors Alicia and Ben made the announcement: We were switching to virtual worship for a few weeks until the coronavirus settled down and we could return to normal. That Sunday, Pastor Ben spoke to an oddly still sanctuary, the musicians played for a congregation on the other side of the screen, and Ministry Coordinator Karen Taylor streamed it on her phone, using a music stand to keep it steady. The global pandemic that was about to upend all of our lives had arrived in Minnesota.
At the time, most of us thought we would be back to "normal" soon. But we have a new normal now: an online worship that began with a small, humbled team has grown to many more. And that new normal has revealed many hidden blessings.
Watching the online services on our Facebook page on Sunday mornings, Barb says, "I love to see the comments as the service happens. It's really nice to know someone else is watching with you," she says. "I live alone; it's just my dog and me and this online service connects me."
A retired special education teacher, Barb wanted to get more involved, despite the pandemic. She now teaches the 1st-4th graders Children's Ministry on Zoom Wednesday nights. "Doing things like this really helps."
The true benefit of online services, according to Barb, is the inclusivity. "I like that you can still be included even if you're sick or traveling. When I was sick before, I just missed the service. Now, I'm still connected. I'm grateful for this church."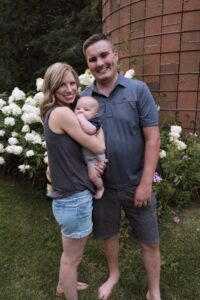 New parents
Allie and Frank Wergin
find watching online an easier option with their 6 month old baby, Jack.
"There are a lot of positives about watching the service online, but especially with having a little baby," Allie says. "He can be fussy at 9 a.m., so it would be a challenge to be there in person. Sometimes we are still in our jammies if the baby had a bad night. The flexibility is helpful."
The Wergins joined Holy Trinity in August. As many people join churches to be a part of a larger community of faith, I asked Allie if they were feeling connected. "We are a new family, so not having that face-to-face interaction makes it a challenge. But we're getting to know some of the members by watching the online worship," she said.
Barb and Bob Gullickson
tune in on Sunday mornings. "We watch every week. I still think, 'It's Sunday, we have worship.' Now, of course, I can cuddle with my dog, but I like keeping this part the same," says Barb.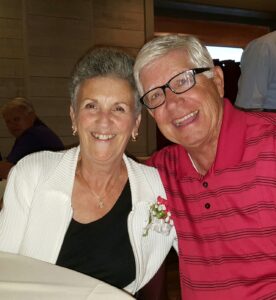 "Of course we miss everyone, but we like watching the commentary [on Facebook] and the creativity the staff has come up with to pique our interest," says Barb. "The music is fabulous! Having a blended style is great because something speaks to everyone that way. "
Bob appreciates the Pastors' sermons. "Without the services on the screen, we wouldn't be able to hear the sermons. Especially during these tough times, it's important," he said. "They are so relevant, the positive aspects of diversity in the church… you hear these messages and they make you think."
Barb also appreciates how new leaders of the church are coming forward to share their gifts. "I love that Pastor Diane is more a part of our church and we love to see everyone's faces! Especially the new, talented people who have been hiding."
Holy Trinity is grateful for all our members and friends. We pray you have a reflective and healthy Advent.
Written by Rose M. Fife, HTLC Communications Specialist